China media criticise US and Japan leaders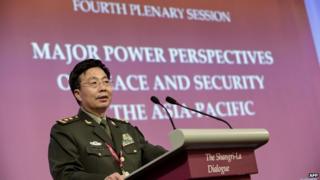 Papers criticise the US and Japan for taking an "anti-China stand" at the Shangri-La Dialogue in Singapore.
On Sunday, Chinese army general Wang Guanzhong denounced Japanese Prime Minister Shinzo Abe and US defence secretary Chuck Hagel for making "provocative" speeches against China.
Mr Hagel had earlier said China was "destabilising" the South China Sea region.
Mr Abe vowed to give greater support to South East Asian countries in his speech at the summit, also known as the Asia Security Summit, on Friday.
In a commentary, the Xinhua News agency criticises "some politicians" for making use of the summit to "stir up enmity" and "sow discord" among Asian countries.
"Mr Abe and Mr Hagel's accusations have prompted the general to respond… The Shangri-La Dialogue is a platform to engage in communications and clear up misunderstandings, but someone is deliberately stirring trouble here," it says.
An article in China Daily says Mr Hagel "did everything he could to point an accusing finger" at Beijing.
It adds that it was "inappropriate" for the US defence secretary to "fire groundless and unreasonable anti-China remarks".
"By lodging unwarranted accusations against China, Mr Hagel has sent a wrong signal in Singapore. His arguments do a disservice to regional efforts in quelling maritime disputes as well as sowing more seeds of discord in the region," it says.
Echoing similar sentiments, Lu Yin, a researcher at the National Defence University, tells the Beijing Youth Daily that China has "positively participated" in multilateral dialogue events.
"This shows that China wants to be seen as a country that wants peaceful developments in the region. China would like to solve historical problems through dialogue," she says.
Elsewhere, papers are also discussing a regional education department's controversial decision to make HIV tests compulsory for new college students.
According to local media reports, the education department in the central Province of Henan has ordered colleges to send their new students for HIV tests.
Reports add that officials hope to identify those infected and "provide them treatment and care".
Education authorities have also promised to keep the information related with these tests strictly "confidential", reports say.
However, the new regulation has sparked heated debates on websites and social media platforms.
"HIV testing is part of human rights, unless in exceptional cases, no organisation or any individual can force any person to go for the test," says a commentary in the Beijing News.
It suggests that colleges should encourage students to go for voluntary testing and educate them on prevention of the disease instead of making the examination compulsory.
However, an article on the Qilu Net defends the procedure, saying it shows the authorities' "concern for the society".
"The medical examination is not a humiliation nor is it a discrimination against the students, but a responsibility for the students," it says.
BBC Monitoring reports and analyses news from TV, radio, web and print media around the world. For more reports from BBC Monitoring, click here. You can follow BBC Monitoring on Twitter and Facebook.