China media: Japan tensions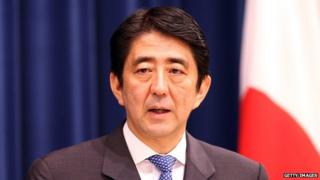 Media analyse tensions between Beijing and Tokyo and say that Japan's PM Shinzo Abe is "expected to further provoke" Beijing at a regional meeting.
Mr Abe is due to deliver a keynote address at the Asia Security Summit, also known as the Shangri-la Dialogue, on Friday. The summit, held in Singapore, will be attended by regional defence officials and this is the first time that a Japanese prime minister will be speaking.
Ties between Tokyo and Beijing have been severely strained over historical tensions and a set of disputed islands in the East China Sea, known as Diaoyu in China and Senkaku in Japan.
The Global Times Chinese edition remarks that Mr Abe's attendance shows that Japan has "placed unusual emphasis" on the event this year.
Quoting an unnamed source, the paper notes that "the China issue, especially the territorial dispute", as well as "strengthening crisis management between Beijing and Tokyo in the region" will be the important points which Mr Abe could make.
"It is unlikely that the representatives from both countries will be shaking hands during the event as Beijing will see it as inappropriate," the daily adds.
The Xinhua news agency says that according to reports in Japan's media, Mr Abe will "taste China's 'iron fist' in the Shangri-la Dialogue", as Beijing will be sending a bigger group of delegates led by Fu Ying, China's female vice foreign minister.
A People's Daily overseas edition commentary criticises Mr Abe for "not making any real effort" to improve the relationship between China and Japan. "He has instead been intensifying the problems over the Diaoyu islands, placing new hurdles in Beijing-Tokyo ties," it says.
The daily claims that Mr Abe "is also instigating some South East Asian countries to go against China, using them to control Beijing".
"Mr Abe will certainly treasure the honour to speak at the occasion and to sell his idea on a proactive contribution to peace. Let us just wait and see what tricks will be played in Singapore by this Japanese PM, who is set on messing up Asia," exclaims People's Daily.
Meanwhile, reports say that Chinese Vice-President Li Yuanchao has urged a Japanese business delegation visiting Beijing to help improve strained relations.
On Wednesday, Mr Li told Hiromasa Yonekura, chairman of the Japan Business Federation, that "an improvement in the China-Japan relationship requires a correct understanding and an appropriate treatment of historical issues and the Diaoyu Islands", the China Daily reports.
Commenting on the meeting, Ma Junwei, an expert on Japan affairs at the China Institute of Contemporary International Relations, says that "there are robust demands from both countries for more economic co-operation", despite the current tensions.
"Bilateral ties have suffered and the visiting delegation was trying to find out which field or dimension bears the best chance of a major breakthrough," he tells the daily.
'Burial reform'
And finally, media debate the new "cremation rule" in the city of Anqing in the eastern Anhui province after several elderly people there allegedly committed suicide over a burial reform.
Concerned that they are running out of land, authorities in Anqing declared in March that "all corpses must be cremated starting 1 June", local media recall.
Reports say that this prompted several elderly people to commit suicide so their bodies could be buried legally in coffins. According to tradition, a body should be buried after death.
Media are sympathetic to the villagers and criticise the harsh measures of the authorities, though officials have dismissed any link between the deaths and the burial reforms.
Xinhua news agency lashes out at the Anqing authorities for not "taking care of people's emotions" and "forcing them to change a custom that has lasted for centuries".
BBC Monitoring reports and analyses news from TV, radio, web and print media around the world. For more reports from BBC Monitoring, click here. You can follow BBC Monitoring on Twitter and Facebook.