China media: Warning Vietnam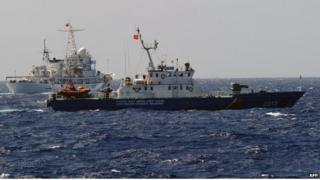 China and Vietnam have traded accusations after a Vietnamese fishing boat sank after colliding with a Chinese vessel in disputed waters in the South China Sea.
Reports quote Vietnam's coast guard as saying that the boat was encircled by 40 Chinese vessels near a Chinese oil rig and then rammed. Chinese media, however, blame the fishing boat for "engaging in harassment".
"The Vietnamese vessel capsized while trying to ram our oil rig. All aboard the boat were rescued and China has warned Vietnam to stop creating trouble," says Beijing News.
The Beijing Youth Daily reports that Vietnam had "ignored warnings" and had "disrupted" the works at the Chinese oil rig. The report quotes Yi Xianliang, a foreign ministry official in Beijing, as saying that Vietnam was "provoking trouble" but that China would remain "low profile and controlled".
Li Guoqiang, a historian at Chinese Academy of Social Sciences, tells the China Daily that the aim of the "continued Vietnamese harassment" was not just to disrupt Chinese enterprises, but also to enable Hanoi to claim sovereignty over Chinese waters.
Echoing a similar sentiment, Liu Heping, a commentator for Shenzhen Satellite TV, says Vietnam wants to "force" Beijing to "back away" and "share the economic benefits" of exploration in the South China Sea.
"The weather conditions in the South China Sea have been calm and normal in recent days, so there is no reason for normal fishing and commercial vessels to collide so frequently… China is warning Vietnam that if it persists… and continues to use vessels disguised as fishing boats to engage in collisions, China will not be afraid of the challenge and will retaliate or even sink these vessels," he says.
Wang Xiaopeng, a maritime expert at Chinese Academy of Social Sciences, tells the Global Times that China should be prepared "mentally and physically for continuing harassment from Vietnam".
"Vietnam has tried to expand the disputes over the South China Sea by claiming the territory of the undisputed Xisha Islands [Paracels] and seeking 'legal action' on the issue. The Philippines has filed for international arbitration and the US is supporting Vietnam in seeking international arbitration in its row with China. One country after another may take China to arbitration in the future," he warns.
Meanwhile, Chinese media criticise Japan for having an "ulterior motive" in "helping" Vietnam over the collision incident.
Japan's Chief Cabinet Secretary Yoshihide Suga said after the incident that "the countries concerned should stop unilateral actions that escalate tensions".
Commenting on his words, China's Foreign Ministry spokesperson Qin Gang lambasted Japanese leaders for trying to "fish in the troubled waters and achieve ulterior motives".
A Xinhua news agency report notes that Japan is "rearranging the balance of power in the region" by supporting Vietnam and the Philippines in their "provocations".
"Japan's PM Shinzo Abe has provided a small but symbolic assistance to countries that are in a territorial dispute with China," says the agency, adding that Japan had offered to send patrol ships to "help maintain regional peace and stability".
An article in the Ta Kung Pao daily comments that Mr Abe supports Vietnam and the Philippines with an "obvious intention".
"He wants to push Southeast Asian countries, including Vietnam and the Philippines, to the forefront. By supporting them in their conflict with China, Japan is trying to shift diplomatic tensions away from Northeast Asia," the paper says.
The commentary warns Vietnam that Japan has a "hidden agenda".
"Is Hanoi willing to become a gunman by joining forces with Tokyo? Because of historical reasons, Vietnam was cautious about the US and Japan. The friendlier these two countries are, the more suspicious will Hanoi become as there is no free lunch in the world," Ta Kung Pao adds.
China-Malaysia ties
And finally, Malaysian Prime Minister Najib Razak embarked on a week-long visit to China on Tuesday.
Papers report factually on his low-key arrival in Xi'an, Shaanxi Province. He will head to Beijing on Wednesday and is expected to hold talks with President Xi Jinping and other Chinese leaders during a "private dinner".
This year marks 40 years of diplomatic relations between China and Malaysia but ties have been affected by the incident with the missing Malaysia Airline plane.
Most of the passengers on board the MH370 flight were Chinese, and their relatives have accused the Malaysian authorities of mishandling the search for the plane that disappeared in March.
In a separate meeting between defence officials from the two countries on Tuesday, Fan Changlong, the vice-chairman of China's Central Military Commission, urged Malaysian Defence Minister Hishamuddin Hussein to "continue the search for the missing jet", the People's Daily reports.
Wang Chungui, a former ambassador to Malaysia, tells the Global Times Chinese edition that Mr Najib had "warmly welcomed" the Chinese president when he was in Malaysia last October, and that hosting a private dinner for him Beijing was "a show of friendship between the leaders and a return of hospitality".
The report notes that Malaysia will take over the rotating chairmanship of the Association of Southeast Asian Nations (ASEAN) from Myanmar next year.
Mr Wang points out that "Malaysia and China hold similar views on the South China Sea issue, ones that oppose external interference".
BBC Monitoring reports and analyses news from TV, radio, web and print media around the world. For more reports from BBC Monitoring, click here. You can follow BBC Monitoring on Twitter and Facebook.