China breaks up 'terror groups' in Xinjiang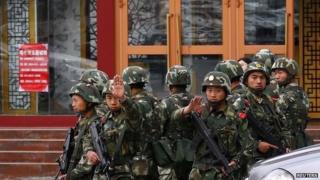 Chinese police have broken up 23 extremist groups and arrested more than 200 suspects in the restive Xinjiang region this month, state media says.
The groups were targeted in Hotan, Kashgar and Aksu prefectures, Xinhua news agency said on Sunday. More than 200 explosives were also seized.
Many of the suspects "watched terror" videos online, Xinhua added.
The news came days after 39 people died in an attack in Urumqi which Chinese officials blamed on Uighur separatists.
Two vehicles drove into crowds at a market in the regional capital and threw explosives on Thursday. One of the vehicles then blew up. About 90 other people were wounded.
Chinese officials said one man had been held over the attack, while four other suspects died.
---
Uighurs and Xinjiang
Uighurs are ethnically Turkic Muslims
They make up about 45% of the region's population; 40% are Han Chinese
China re-established control in 1949 after crushing short-lived state of East Turkestan
Since then, there has been large-scale immigration of Han Chinese
Uighurs fear erosion of their traditional culture
Why is there tension between China and the Uighurs?
---
The arrests this month happened in areas of Xinjiang where the majority of residents are Muslim Uighurs, Xinhua said, quoting the regional public security department.
"Many of the suspects were in their 20s and 30s, who watched terror video and audio through the internet and electric storages and learned how to make explosives," Xinhua said.
It added that the suspects shared their knowledge of making explosives and "propagating jihad" through chat and text messages and illegal sites.
Xinjiang has seen a spate of attacks in recent years, with at least two happening in Urumqi weeks apart.
Beijing has blamed these - and other recent mass-casualty attacks - on Uighur separatists.
These include an attack in Beijing, where a car ploughed into pedestrians in Tiananmen Square, killing five people, and attacks at railway stations in Urumqi and Kunming.
Uighur exile groups say the violence is being fuelled by China's repression of Uighur culture and religious customs, says the BBC's Martin Patience in Beijing.