China media warn Manila over detention of fishermen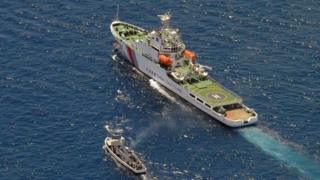 Media severely criticise the Philippines' decision to charge nine detained Chinese fishermen over allegations of poaching in the South China Sea.
The Philippines detained 11 Chinese fishermen in disputed waters last week, sparking angry responses from Beijing.
Manila later released two suspects who were minors, reports say. But it charged the remaining nine on Monday with poaching hundreds of endangered sea turtles in the South China Sea.
Tensions over territorial disputes in the South China Sea, where the Philippines, Brunei, Malaysia, Vietnam and Taiwan all have overlapping claims with China, are currently running high.
"The Philippines has singled itself out as a determined challenger of Chinese national interests and the devoted hatchet man of foreign anti-China forces," says the China Daily.
That paper adds that "Manila needs to be convinced that it has made a choice that, if it persists, means paying an unaffordable price".
An article in the People's Daily overseas edition states that China is "willing to strengthen co-operation" with the countries involved in territorial disputes but "will not swallow insults in silence".
"Now that the Philippines insists on being unreasonable, China needs to definitely retaliate. Beijing is equipped with good strategies and tactics that are sufficient to deal with Manila," it says.
Echoing similar sentiments, a commentary in the Liberation Army Daily warns that the Philippines will "taste its own medicine" for "the provocations".
"It is making use of the recent case to create a false impression to justify its illegal occupation of the islands," it adds.
Meanwhile, some media outlets comment on protests in Vietnam against China's role in the sea dispute.
Vietnamese and Chinese ships collided in disputed waters as China tried to bring in an oil drilling rig last week.
The Global Times Chinese edition reminds Vietnam that it would be "naïve" if it hoped to seek support from the US.
"It is impossible for Vietnam to receive help from the US, which is very willing to overthrow all socialist countries… We hope Hanoi would stop what it is doing now and treasure the traditional friendship with Beijing and remember that both countries had chosen a similar [socialist] path," it says.
Pollution fine
Elsewhere, media report that Beijing authorities have handed down a hefty penalty to a company for causing air pollution.
Beijing's environmental watchdog has asked a utility-boiler manufacturing firm to pay 300,000 yuan ($48,000; £28,000) as fine for painting boilers in the open air without using protective measures, according to local media reports.
This is the highest penalty since the new Beijing Air Pollution Prevention Regulation took effect on 1 March.
Yan Xiangyang, a consultant at the watchdog, tells the Beijing News that the authorities will introduce more stringent measures by the end of this year.
BBC Monitoring reports and analyses news from TV, radio, web and print media around the world. For more reports from BBC Monitoring, click here. You can follow BBC Monitoring on Twitter and Facebook.