Suspect killed in China bus blaze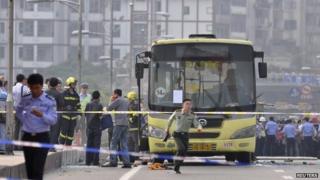 A man who died in a bus fire in southwest China is thought to have been responsible for the blaze, Chinese authorities say.
The commuter bus caught fire on Monday night in Yibin city in Sichuan province.
A total of 77 people needed hospital treatment, including 12 who were either seriously injured or in critical condition, Xinhua news agency said.
The suspect, who was the only fatality, was identified as Yu Yuehai, 51.
No information regarding a possible motive was given.
But in recent months there have been several incidents in which individuals fuelled by personal problems or grievances have set public buses on fire.
Earlier this year, a man who suspected his wife of infidelity killed six people in a bus fire in Guiyang.
And in June 2013, more than 40 people were killed in a bus fire in Xiamen in an incident blamed on a suicidal local resident.