Chinese activist Xu Wanping freed amid clampdown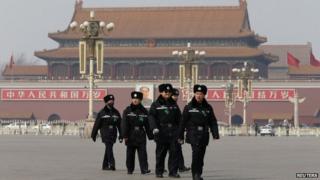 Chinese political activist Xu Wanping has been released early from jail, even as the authorities detain others ahead of the 25th anniversary of the Tiananmen Square protests.
His wife told the BBC that his release on Tuesday was for "good behaviour".
She added he was in poor health while in jail. Xu has spent most of the past 20 years in prison and labour camps.
Dozens of government critics have been detained in recent days ahead of the Tiananmen protest anniversary in June.
Prominent journalist Gao Yu is the latest person to have been reported as missing, with friends saying they have been unable to contact her since last Thursday.
The Chinese government has previously been accused of silencing dissidents by detaining or arresting them ahead of significant events.
In 2008, rights groups said Beijing was cracking down on dissent ahead of the Olympics.
Xu was jailed following the 1989 Tiananmen protests for trying to organise an independent labour union, which the authorities deemed as a "counter revolutionary group". He served eight years.
In 1998, he was sentenced to three years in a labour camp for inciting a disturbance.
At that time he was involved in setting up a branch of the opposition China Democracy Party in Chongqing. The party, which is banned, has called for an end to one-party rule in China.
His latest jail sentence started in 2005 when he was found guilty of incitement to subvert state power, in connection to anti-Japanese protests.
Rights group Human Rights in China, which is based in Hong Kong and New York, says Xu suffered from digestive and prostate problems and other conditions while in jail.
It also claims he was denied medical parole and medical exams.
Its executive director Sharon Hom pointed out that though he has been released, Xu has no political rights for the next four years. This means he cannot speak with the press nor publish articles.
"He has merely been transferred from a small prison to the larger prison of Chinese society," she said.