China media: US TV shows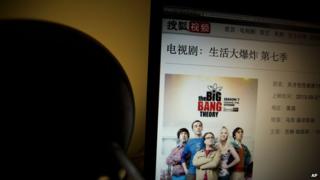 Papers discuss the viability of a ban on showing popular US TV shows on video-streaming websites in China.
The authorities have ordered such websites to stop showing The Big Bang Theory, The Good Wife, NCIS and The Practice in China.
Websites like the TV Sohu and the Youku are puzzled over the move, saying that the shows were all purchased legally for viewing in China, reports the Beijing Times.
However, the websites say they will "co-operate fully with the authorities to clean their portals", reports say.
China's TV watchdog says foreign sitcoms are allowed in China only when they are deemed "appropriate" and have no "distasteful, violence or erotic content", according to reports,
"A large number of netizens are upset over the decision," according to the NetEase website.
The report added that netizens were angry because China Central Television's paid channels were showing the same sitcoms dubbed in Mandarin on Sunday.
However, most video-sharing websites offer free content that is often accompanied with advertisements.
"You all removed the US sitcoms online just to pave way for the channels to play the dubbed sitcom? Please return the American sitcoms to the people," says a a netizen on weibo, China's version of Twitter.
The New Culture daily notes that some netizens are urging the authorities to adopt a ratings system to prevent children from watching "inappropriate content" online.
Be Chenggong, a film and drama critic, tells the Global Times that China does not have such a system and foreign sitcoms are available to viewers of all ages.
"Yet some content may not be suitable to all, which is perhaps why these four shows have been targeted," he says.
Supporting the move, a commentary in the Global Times' Chinese edition suggests that home-grown drama productions should take this opportunity to "improve themselves".
"By posing restrictions on US sitcoms, the authorities are trying to shield our youths from psychological harm. But the main reason for such a policy is to protect the weak film industry in China," it explains.
Ferry disaster
Meanwhile, papers discuss the issue of official accountability in China after South Korea's Prime Minister Chung Hong-won resigned from his post over the sinking of a passenger ferry.
The Sewol ferry with 476 people aboard - most of them students and teachers - sank off South Korea on 16 April. Officials have confirmed 187 died, but scores are missing, presumed drowned.
The Beijing News disagrees with the view that Mr Chung's resignation equates to "bearing the responsibility".
"South Korea has achieved significant success in its clean and moral governance, however, one should not describe the prime minister's resignation as a form of moral cleanliness," it says
"These are not an action of moral redemption. To do so is to confuse political responsibility with moral values, and ignoring the impact of public opinion and the system of accountability," it adds.
Echoing similar sentiments, the Beijing Times notes that "some have applauded his actions, but this is influenced by emotions, not by intellectual judgement".
"Interestingly, public opinion in China and South Korea differs greatly over his resignation, some have commended his action, but the opposition camps in South Korea criticised him for shirking responsibility by simply throwing in the towel," the daily points out.
BBC Monitoring reports and analyses news from TV, radio, web and print media around the world. For more reports from BBC Monitoring, click here. You can follow BBC Monitoring on Twitter and Facebook.