China media: Lavrov's visit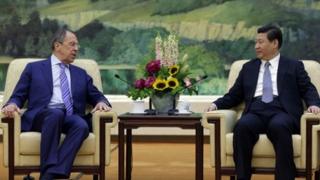 Media discuss Beijing-Moscow relations as Russian Foreign Minister Sergei Lavrov visits China.
Mr Lavrov met President Xi Jinping on Tuesday to discuss China-Russia bilateral co-operation and the ongoing crisis in Ukraine.
State-run Xinhua News Agency reports that Mr Xi "presented China's views and position" on Ukraine to Mr Lavrov.
Mr Lavrov reportedly thanked China for its "unbiased position on Ukraine" and added that Beijing-Moscow ties had reached an "unprecedented height".
"This shows that Moscow understands Beijing's position," an analyst from Hong Kong-based pro-Beijing Phoenix TV comments.
"China has prioritised Beijing-Moscow ties, but at the same time it has taken into consideration the views of Ukraine's government and the West. Under such circumstances, each party could no longer impose its views on China," he says.
Li Xing, professor of Russian and Asian affairs from Beijing Normal University, tells the Global Times that there might be "some major adjustment in Russia's foreign policy after the Ukrainian crisis".
"Russia is ready to expand and deepen the bilateral strategic and co-operative partnership with China, and what happened in Ukraine is speeding up the process," he adds.
The two leaders also discussed Russian President Vladimir Putin's upcoming visit to China in May.
China Radio International says that Mr Lavrov's foremost task on this trip was to oversee "preparation for Mr Putin's visit".
National security
Meanwhile, papers also discuss Mr Xi's vision of adopting a consolidated national security policy to deal with external and internal threats.
He outlined his ideas at the first meeting of China's newly-established State Security Commission on Tuesday.
Warning that "China now faces the most complicated situation it ever has, internally and externally", Mr Xi says that both domestic stability and external security are on the agenda for the new commission, Xinhua News Agency reports.
"In the past, we have mostly emphasised territorial and sovereignty issues. Now there are more non-traditional security problems including resources, energy and ecological ones, so national security has become more complex," Li Wei, an expert on security and arms control from China Institute of Contemporary International Relations, tells the Beijing News.
Elsewhere, media criticise Japan after its foreign ministry published a pamphlet on its official website to refute Beijing's assertion that a group of disputed islands belong to China.
Relations between Tokyo and Beijing are currently strained over a territorial row involving a group of islands in the East China Sea known as the Senkaku in Japan and the Diaoyu in China.
A commentary in the state-run People's Daily describes Japan as being "provocative" and "hypocritical".
"The international community are highly alarmed by the Japanese government's series of actions that are going against peace. Provocations that are violating truths and justice will never succeed," it says.
And finally, some media outlets pay tribute to Hu Yaobang, a reformist leader who was ousted from the Communist Party in 1987 for being sympathetic to student movements across China.
His death on 15 April 1989 sparked the Tiananmen Square protest, a topic that remains a taboo subject in Chinese society.
Media in China are largely silent on the death anniversary, but hundreds of people arrived to pay their respects at his tomb in Jiangxi Province on Tuesday, according to the Ta Kung Pao, a Beijing-backed paper based in Hong Kong.
The Global Times describes Mr Hu as "a long-tested and staunch communist warrior".
It recalls that the authorities praise Mr Hu, but avoid talking about his controversial legacy.
"For reasons known to all, Mr Hu is rarely mentioned in the Chinese media. Remarks about him that frequently appear on the internet are often swayed from the official line," it adds.
BBC Monitoring reports and analyses news from TV, radio, web and print media around the world. For more reports from BBC Monitoring, click here. You can follow BBC Monitoring on Twitter and Facebook.