China media: Economic growth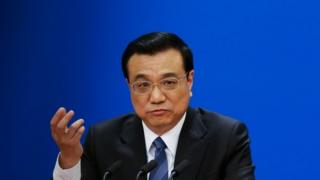 Media discuss China's economic growth as Premier Li Keqiang delivered his keynote speech at the Boao Forum for Asia.
"We will not resort to short-term stimulus policies just because of temporary economic fluctuations," he said, according to state media. "We will pay more attention to sound development in the medium and long run, making efforts to achieve a healthy and sustainable development of the Chinese economy."
Held annually in the coastal town of China's southern-most island province of Hainan, the four-day forum aims to promote regional economic integration.
The China News Service says the "whole world looks forward to" Mr Li's keynote address on China's economic development, direction and strategy.
"At the moment, the Western economies are recovering at different speeds; now the world is focusing on the emerging economies, that is the most important reason why the forum attracts much attention this year," Shen Ji, a researcher from Chinese Academy of Social Sciences, tells the news agency.
The China Business News expects the government's stance on the economic slowdown to be an important point in Mr Li's address.
"He will not avoid the hot topics on economic policies and future development strategies. His speech will be a hint of what the Chinese government's policy direction would be for this year," it says.
"Premier Li's speech might also emphasise on the co-operation between Asian countries. As China's economic strategies are closely related to its external environment, development and stability of the neighbouring countries will have an impact on the country," Wei Jianguo, vice-chairman of the China Centre of International Economic Exchanges, tells the daily.
Meanwhile Chuck Hagel, the US defence secretary, met President Xi Jinping on Wednesday as he wrapped up his visit to China.
According to reports, Mr Xi "expressed his hope that the new model of military to military relations" would help the two countries effectively manage their differences.
Mr Hagel arrived on Monday from Japan and has drawn criticism from Chinese military officials as well as the media for remarks made in Tokyo that China needs to "respect" its neighbours.
The China Central Television uses the phrase "agree to disagree" to describe China-US ties in a report on the meeting between Mr Xi and Mr Hagel.
"The new type of China-US military ties are in the initial phase and the two sides have different understandings but they are looking for ways to advance", Liu Weidong, an expert on US studies with the Chinese Academy of Social Sciences, tells the Global Times.
Criticising authorities
And finally, a young presenter from a TV station in Hubei Province was asked to leave a live programme when he lashed out at officials from Fang County who built expensive government buildings.
Fang County in Hubei Province, central China, has been listed as one of the poorer regions in China.
"Some government officials do not compare among themselves with how well they have done to change the lives of the people or how they have raised the standard of government service. Instead they talk about how luxurious and grand their offices are… Would you believe these officials are not corrupted?" he commented in a video clip that has gone viral.
An article on the Qianjiang Evening News defends the host for speaking up while noting that there has been support as well as criticism on his professionalism.
"Why is it that we allow the officials of a state-poverty-county to squander taxpayers' money and yet do not have the room for a young TV host to questions the corruption?" it asks.
BBC Monitoring reports and analyses news from TV, radio, web and print media around the world. For more reports from BBC Monitoring, click here. You can follow BBC Monitoring on Twitter and Facebook.