China media: Hagel's visit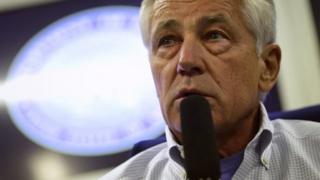 Media are cautiously optimistic about Beijing-Washington relations as US Defence Secretary Chuck Hagel begins his visit to China.
Mr Hagel visited Japan over the weekend where he addressed regional territorial disputes, saying Chinese authorities should have "respect for their neighbours".
Commenting on Mr Hagel's visit, a commentary in the Liberation Army Daily reminds the US that "actions speak louder than words".
Without naming any country, the article comments that a new type of China-US military relationship will "help eliminate the intention of some countries which 'create' problems for Beijing and Washington for their own gains".
"Actions speak louder than words in the construction of new Sino-US military relations. Both [China and the US] have expressed their stance and have reached consensus, more importantly, there must be new measures and actions… not doing anything that would harm the interest of the other party," it says.
Echoing similar sentiments, an article in the Liberation Daily states "China and the US are friends and competitors but definitely not enemies".
However, it warns that one "should not expect a breakthrough in China-US military relations" in this visit.
"Security issues including problems of the South China Sea are likely to be discussed… Mr Hagel might also talk about Crimea as well as urging China on so-called openness and transparency, which are the pet topics of the US. On the other hand, China will bring up its concerns," it says.
"Military trust requires mutual effort, the US has no reason not to change its rhetoric and behaviour, and does not even have any reason to speak as if it is lecturing anyone," it adds.
A commentary in the Beijing Youth Daily points out that the US "wants to retain its hegemony in East Asia" and "slow down China's peaceful progress", so it is trying to control as well as to make use of Japan's right-wing forces "led by Mr Abe", Japan's prime minister.
"The US is wary of China's growing strength particularly in East Asia. As such, the US does not want to see China and Japan in war, but it would love to see both countries 'quarrelling' over different disputes," it adds.
The overseas edition of the People's Daily criticises the US for "pressurising China" over territorial disputes in the South China Sea.
"China will not be the only, nor the biggest victim in face of sanctions… China places importance on Beijing-Washington relations and the US will also not be able to handle the consequences of a soured bilateral relationship. It should know that there are serious consequences in 'stirring up muddy water' in the South China Sea," it warns.
Meanwhile, the media are also critical of Japan's decision to ease its half-century-old self-imposed arms export ban.
The Liberation Army Daily has reprinted a commentary by Xinhua news agency, warning Japan to "reflect on its invasion history, walk on the path of peaceful progress and to gain the trust of its Asian neighbours as well as the international community".
And finally, the Central Commission for Discipline Inspection (CCDI), China's anti-graft agency, has started an online feedback channel to encourage netizens to "expose corrupt officials".
According to the Beijing Evening News, the 1 May holiday is the "peak season" for four types of corruption, including using public funds for travelling, dining, giving and receiving gifts.
"The CCDI opens the online channel for the public and the media to supervise… and to form a strong deterrent to corruption," it reports.
BBC Monitoring reports and analyses news from TV, radio, web and print media around the world. For more reports from BBC Monitoring, click here. You can follow BBC Monitoring on Twitter and Facebook.