China media: 'First lady' diplomacy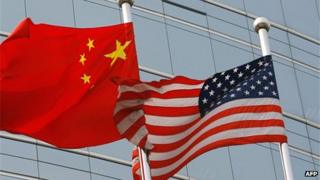 Media are discussing the power of "first lady diplomacy" as Michelle Obama prepares to start a week-long visit to China on Thursday.
She will be greeted by Peng Liyuan, the wife of President Xi Jinping, who will accompany her for part of her stay in the country.
The Beijing Times comments that Mrs Obama's visit is a form of "soft diplomacy" and that good "first families" relations could help ease tensions between Beijing and Washington.
"Recently, issues such as the South China Sea, China-Japan relations and the Crimea problem have strained China-US ties, so 'first lady diplomacy' will help soothe some of the negative emotions towards the US," Chen Mingming, a member of China's Foreign Ministry of Public Diplomacy Advisory Committee, is quoted as saying.
Media also note that next month President Barack Obama will visit four Asian countries, including Japan and South Korea, but will not stop in Beijing.
According to the Peninsula Morning Post, Mr Obama might push ahead with his "Asia-Pacific rebalance strategy" to "restrain China", which could lead to tension between Washington and Beijing.
"At this point, the visit of Mrs Obama will soften the impact of the conflict between the two countries… as Mrs Obama is more popular in China than her husband," says the paper.
For the China News Service, Michelle Obama is a "special ambassador to China" who might become the "second Hillary Clinton".
South China sea dispute
Meanwhile, some media outlets are lashing out at the Philippines for planning to send supplies to its troops stationed on a grounded ship in a disputed shoal in the South China Sea.
Manila accused Beijing of preventing two civilian vessels from reaching the shoal. China has also warned the Philippines to prepare for "consequences".
The tension surrounding the Second Thomas Shoal, known as Ayungin in Manila and Ren'ai Reef in Beijing, is the latest episode in a long-running dispute over reefs and shoals in the South China Sea.
A commentary in the People's Daily overseas edition takes a dig at Manila for "revealing its fox tail" and becoming a "troublemaker" after it got "US support".
"China will not tolerate an occupation of the shoal by the Philippines, no matter who is behind their back… if they continue with this provocation in the South China Sea, they will pay the price for it," warns the paper.
The Chinese edition of the Global Times reprints an article from the Hong Kong based pro-Beijing China Review, which urges strong actions against Manila's "tricks".
"The Philippines government tried to present China as a big bully in order to gain international sympathy and put pressure on Beijing's diplomacy… but the Philippines must clearly understand that China will not bow to pressure," it warns.
'Organised beggars'
Turning to local news, media are shocked by claims made in a TV programme that most of the nearly 3,000 beggars in Dongguan, a southern China city, are controlled by organised gangs.
According to Phoenix TV, a Hong Kong-based pro-Beijing TV station, the gangs would cruelly cripple and disfigure people and make them beg for money.
The Beijing Youth Daily says that more protection should be given to young people and notes that the problem is "not something new".
"Why are these young children living on the streets when they should be attending school?... If we don't give them protection, then all types of illegal organisations will make use of them," writes the paper.
The Beijing Times comments that similar gangs operate in other cities as well and criticises law enforcement agencies for being passive.
And finally, Chinese netizens are expressing anger over South Korea's plan to put ondol (a traditional underfloor heating) on the Unesco World Cultural Heritage list
Some accuse Koreans of "copying" the technology from a heating system known as "kang" that is widely used in northern China.
The People's Daily notes that China has a "rich intangible cultural heritage" which has strongly influenced regional countries.
The paper criticises authorities for not doing enough to get international recognition for China's unique traditions. "Kang is still widely used in the north-eastern area, but it is not even placed on our country's own intangible heritage list," says the paper.
BBC Monitoring reports and analyses news from TV, radio, web and print media around the world. For more reports from BBC Monitoring, click here. You can follow BBC Monitoring on Twitter and Facebook.