China media: Baby hatch scheme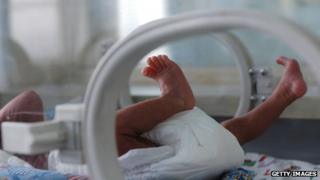 Difficulties facing a new baby hatch programme and the first fine for industrial pollution under recently adopted regulations are two of the main topics in Monday's papers.
Local media are reporting that a baby hatch in Guangzhou, southern China, was closed on Sunday as it was unable to cope with the increasing number of abandoned toddlers.
The Chinese authorities have set up 25 "baby hatches" across the country to allow parents to safely give up their unwanted infants. The Guangzhou operator is the first to suspend the service after receiving 262 babies since it opened its doors in January.
A commentary in the Beijing Times says the decision does not mean that the scheme "is being discarded" and "one does not need to be too pessimistic" as the programme is still in its experimental stage.
The paper adds, however, that the hatch was closed after only two months of operation, which showed that government agencies "have not done enough research and are not prepared to handle the crisis".
Echoing a similar view, a commentary in Beijing News points out that China needs to do more work to protect infants and help them avoid the "cruel reality" of being abandoned.
The China Jiangsu Website, a government news portal, notes that the problem of abandoned babies is too complex to be handled alone by Guangzhou city authorities.
"On one hand, we have to fight against the immoral behaviour of those who maliciously abandon the infants, while on the other hand we need a more comprehensive legal system to protect their welfare, as well as support system for families with seriously ill or disabled children," the website argues.
Zhu Jingjun, from the Guangzhou Association of Social Workers, tells the Nanfang Daily that many parents are not aware that they have access to social assistance.
"We will help them to pull in the resources… going to the baby hatch should be the very last resort," she is quoted as saying.
Fighting air pollution
Media report that a thermal power company in Beijing has been fined 100,000 yuan ($16,258; £9,773) for violating anti-pollution regulations.
The company is the first to be sanctioned under the new Beijing Air Pollution Control Regulations that came into force on 1 March.
"100,000 yuan might not seem a lot, but this is a warning signal that cannot not be ignored. It means that the Beijing municipal authorities are serious about taking tough measures," says a Beijing Times commentary.
However, an article in Guangzhou Daily argues that the public is more worried that the authorities could abuse the system of penalties. It raises concerns that when a government unit is given the power to punish, it may use it "to seek rent". "Administrative power is needed to curb air pollution, but we also need to consider how to prevent the abuse of such power," the paper explains.
Elsewhere, China's media coverage of the missing Malaysia Airlines plane has come under close scrutiny.
Netizens have been criticising the media for "only knowing how to pray and send floral tributes" but being unable to provide in-depth analysis and exclusive reports.
"How would you rate the performance of the journalists covering the Malaysia Airlines incident?" asks an article in Qiushi Journal, a magazine established by the Central Committee of the Communist Party of China.
"Compared with the 'sharp and profound questions' that foreign journalists ask, it seems that our media people are just used to waiting patiently for answers," says the journal. It adds that Chinese reporters "seem to have forgotten how to pursue a story, ask questions and uncover facts".
This view is echoed in a commentary on the Sina Web portal. It laments that media in China "lack a system to cultivate specialist journalism", which leaves media with young, inexperienced journalists.
"Talented journalists are promoted to become bureaucrats, enjoying good benefits and wasting their talents… They regard being on the frontline as something to be ashamed of," says the article.
And finally, the Global Times Chinese edition lambasts Western countries for having "double standards" after they supported a UN Security Council resolution that describes Sunday's Crimea referendum in Ukraine as illegal.
Russia vetoed the resolution, while China abstained during the vote.
"The West is now starting to stress the importance of maintaining the territorial integrity of a sovereign country. But why didn't it do this earlier?...The West supported Chechen separatists, and has always described Tibet as a 'country'... Western states have already planted numerous traps in international law that upholds sovereignty to fall into" the paper comments.
BBC Monitoring reports and analyses news from TV, radio, web and print media around the world. For more reports from BBC Monitoring, click here. You can follow BBC Monitoring on Twitter and Facebook.