Kevin Lau stabbing: Nine held over attack in Hong Kong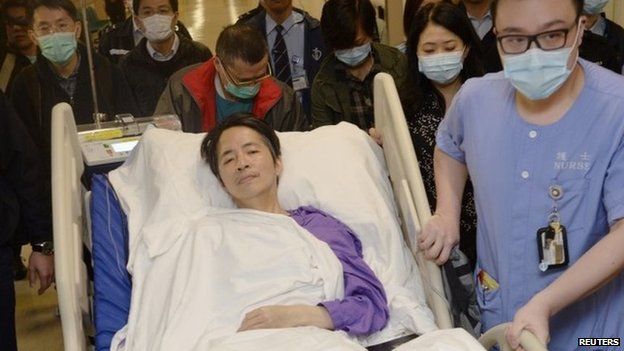 Nine men have been arrested over the stabbing of veteran journalist Kevin Lau, Hong Kong police say.
Two of them, who were detained in China, are believed to have links to organised crime, they added.
But officials have yet to determine if the attack is related to Mr Lau's work as a journalist.
The cleaver attack two weeks ago, which left Mr Lau criticially injured, sparked protests in Hong Kong over media freedom concerns.
Kevin Lau is the former chief editor of Ming Pao, a Chinese-language paper known for its investigative reporting.
He was recently replaced by a Malaysian editor viewed as pro-Beijing.
Police said two men fled to the southern Chinese province of Guangdong after the assault and had been detained there. Hong Kong officials are now seeking their return, the BBC's Juliana Liu in Hong Kong reports.
Seven other men have been arrested in Hong Kong, suspected of helping to plan the attack, our correspondent adds.
"We suspect the assailants were hired and they have a triad background," Hong Kong police commissioner Andy Tsang said, referring to organised Chinese criminal gangs.
"We will not rule out any motive at the moment, but according to the information at hand there is nothing to suspect it is related to journalism at all," he said of the attack, adding that investigations were continuing.
Speaking from hospital earlier, Mr Lau was quoted by Reuters news agency as saying he hoped police would solve the case "to restore journalists' confidence in the rule of law".
He is still recovering from wounds he suffered after he was stabbed by two men who escaped on a motorcycle.
Following the attack on Mr Lau, hundreds of people have held vigils denouncing the violence and calling for press freedom to be protected.
Hong Kong, a former British colony returned to Chinese rule, enjoys many civil liberties like freedom of speech and assembly because of its special administrative region status.