Fire on bus in China's Jilin kills 10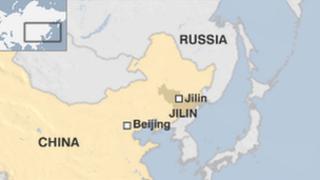 A fire on a passenger bus in China's north-east has killed 10 people and injured 17 others, local officials and state-run media report.
The bus was carrying 43 people when the fire broke out on Wednesday in Jilin city, Jilin province, reports say.
The cause of the fire was not immediately clear. Officials are investigating the matter.
Last week, a bus caught fire in Guizhou province, killing six people and injured 35 others.
Police said they detained a man suspected of arson in connection with the incident. They said he set the fire because he suspected his wife of infidelity.
The bus which caught fire in Jilin belongs to the Fukang wood company, Xinhua news agency said.
The incident came as China began its National People's Congress in Beijing, an annual meeting of its legislators.