Hong Kong news editor Kevin Lau improving after attack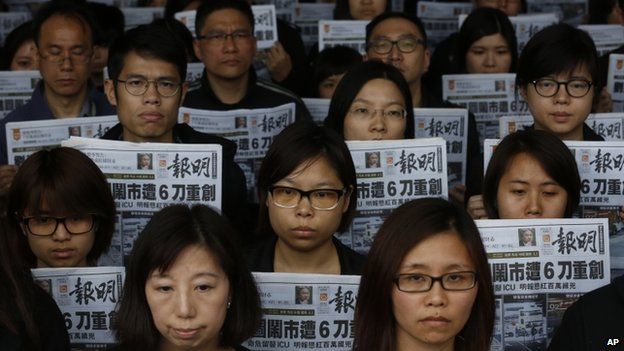 A Hong Kong news editor injured in a cleaver attack is improving, officials say, as journalists held vigils condemning the violence.
Kevin Lau, the former chief editor of newspaper Ming Pao, was critically wounded after being attacked by two men on Wednesday.
Police are investigating the attack.
Mr Lau was recently replaced by a Malaysian editor viewed as pro-Beijing, sparking fears among staff that the paper's independence was under threat.
Ming Pao is a respected Chinese-language Hong Kong paper known for its investigative reporting.
In a statement, Mr Lau's family said that he was now conscious and able to communicate by writing.
"We are confident that with your support and Kevin's own determination, he will not only recover but continue to serve shoulder by shoulder with his fellow journalists," his family added.
On Thursday, at least 200 people held a vigil outside the government headquarters denouncing the attack and calling for press freedom to be protected.
Journalist groups have organised a protest on Sunday against the violence.
Thousands had demonstrated the previous Sunday over fears that Hong Kong's press freedom was under threat.
Ming Pao newspaper has issued a reward of HK$1m ($130,000; £77,000) for information about the attack. This was later raised to HK$3m following donations from readers.
The paper changed the red logo on its masthead to black on Thursday, while its staff rallied outside the newspaper's headquarters to condemn the attack.
Sin Wan-kei from the Ming Pao staff concern group said that staff members were distraught.
"We are heartbroken. We want to know if Hong Kong is still a safe city," she told the South China Morning Post (SCMP).
Police have released CCTV images of the two suspects.
No arrests have been made, and the motive for the attack is unclear.
Ming Pao's editorial director Cheung Kin-bor said he would give the police any sensitive reports published by the paper over the past year, to assist the investigation.
Police are tapping their network of informants in Hong Kong's criminal underworld in a bid to identify the attackers, the SCMP reported.
Both the US consulate and EU mission in Hong Kong have expressed concern over the attack.
Yang Jian, a senior official in mainland China's representative office in Hong Kong, said: "We are very concerned about the incident involving Mr Lau and strongly condemn the actions of the assailant."