China media: Xi's visit to Beijing neighbourhood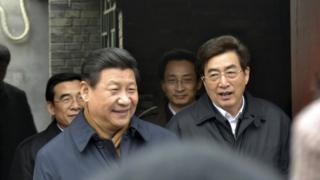 President Xi Jinping's surprise visit to a Beijing alley and plans to establish two national memorial days to honour the war dead are the main themes in Wednesday's papers.
Mr Xi's visit to a neighbourhood in Beijing without wearing a smog mask has received prominent coverage.
Many Beijing residents have been using masks in the past few days due to the severe pollution in the city.
Describing Mr Xi as "breathing the same air, sharing the same fate with the people", media also noted that this is the second time Mr Xi has made a surprise appearance in local communities.
Last December, Mr Xi queued up for his lunch at a steamed bun store and surprised many, winning him praise as a "leader of the people".
Hailing Mr's Xi's "humble approach to the people", the Global Times reports that he "shook hands with about 200 local residents and asked about their daily life".
"Xi's visit to a hutong (traditional local neighbourhood) could be seen as a continuation of his visit to the steamed bun restaurant. As head of the state, he is trying to set up an example for his following officials, " Li Danyang, an administration management scholar from Beihang University, says.
A commentary on Phoenix TV, a Hong Kong-based pro-Beijing broadcast station, notes that Mr Xi's choice to visit cultural places in Beijing shows his emphasis on promoting old culture of the city.
Nanjing massacre
Media are also reporting that China is considering designating two new national holidays to mark the formal surrender of Japan in 1945 and the anniversary of the Nanjing massacre in 1937.
According to the draft laws submitted to the National People's Congress, 3 September would be "Victory Day of the Chinese People's War of Resistance Against Japanese Aggression", while 13 December would be a "national memorial day to commemorate those killed by Japanese aggressors during the Nanjing massacre", the Xinhua news agency reports.
China says some 300,000 civilians were massacred in the city after its occupation by Japanese troops. Japanese nationalists, however, dispute the Chinese version.
Noting "the rampancy of its [Japan's] rightist elements", a Xinhua commentary says the proposal is a "solemn" way to remember history.
"History tells that those who refuse to reflect on and learn from history are doomed to repeat their past mistakes and jeopardise their own future. That is a message from history that Tokyo needs to heed," it warns.
The Beijing Times adds that the establishment of the memorial dates is a call that has been long overdue.
"Although we celebrate major commemorative events every now and then, but for a long time, such an important as 3 September has been 'drowned' and is unknown to many...," the daily says.
According to the Beijing News, officials had submitted a proposal to set a national holiday to commemorate the Nanjing Massacre in 2005.
"In the past, we had been calling this day [13 December] as 'a day of insult'. Now that it is to change, we don't have to suppress our emotions anymore..." says Zou Jianping, a deputy of the National People's Congress from Nanjing.
Ties between Beijing and Tokyo have also been strained due to territorial disputes over a group of islands in the East China Sea, known as the Senkaku islands in Japan and the Diaoyu islands in China.
Social media competition
Elsewhere, Shanghai has relaxed its one-child policy to allow couples to have a second baby if either parent is an only child, after areas including Beijing, Tianjin, Zhejiang, Jiangxi and Anhui took similar steps.
According to media reports, Shanghai is facing the problem of "aging population with lesser children".
Experts tell the China Daily that Shanghai is likely to experience a short-lived baby boom following the change, but "will continue to have an imbalanced population structure" as the number of women at prime childbearing age will decrease by 30% from 2016.
And finally, media are analysing the competition in the social media market as professional networking service LinkedIn enters China.
The firm has launched a test version of its Chinese language site and is expected to boost growth in China - where rival social networking firms such as Facebook and Twitter continue to remain blocked.
The Xinhua news agency says few foreign Internet firms have succeeded in China in the past decade amid strong competition from their local counterparts.
BBC Monitoring reports and analyses news from TV, radio, web and print media around the world. For more reports from BBC Monitoring, click here. You can follow BBC Monitoring on Twitter and Facebook.