China media: Judicial corruption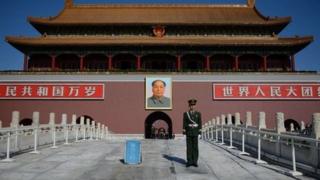 The issue of corruption is back in the media spotlight after a high-profile convict was accused of using bribery to reduce his sentence.
According to the Xinhua news agency, Zhang Hai, former board chairman of a Chinese beverage giant, "used illegal means" to shorten his jail term by nine years.
He was found guilty in 2007 of embezzling 206m yuan ($33.82m; £20m) in public funds and was sentenced to 15 years in prison.
A total of 24 people are now under investigation for their alleged involvement in reducing Zhang's prison sentence and securing his early release, the report adds.
Xinhua adds that Zhang escaped overseas in 2011, saying "related departments are now trying to arrest and extradite him". The authorities, however, did not reveal his whereabouts.
In another Xinhua report, the Commission for Political and Legal Affairs states that those who are "illegally making decisions to commute a sentence or grant release on probation will be severely punished".
The Southern Metropolis Daily applauds the planned crackdown on those who abuse the judicial system.
The daily adds that "it is impossible to stop sentence reduction and parole", but calls for more stringent laws and greater transparency with regards to commutation of sentences.
Meanwhile, a comprehensive report from the Chinese Academy of Social Sciences (CASS), a government think-tank, has revealed that many provincial governments have "failed to meet standards" when it comes to transparency and publicising information, according to the Xinhua news agency.
The Blue Book on the Rule of Law, as the report was called, adds that more corrupt officials might decide to flee after successful crackdowns by the new leadership, and urges stricter monitoring of officials whose spouses and children have migrated, the China Daily reports.
In other news, the Beijing News cites a report from the Central Commission for Discipline Inspection, China's anti-graft watchdog, which says a total of 182,038 government officials have been punished for corruption since last year.
The daily quotes experts as saying that the anti-graft efforts have been effective so far, but to "cure the root problem", the authorities need to have a "system" to prevent corruption.
Two sessions
Elsewhere, some media outlets report that authorities have stepped up security in the Xinjiang Autonomous Region ahead of the annual "two sessions", scheduled to be held in Beijing in early March.
The "two sessions" refer to the combined meeting of the National People's Congress, China's legislative body, and the Chinese People's Political Consultative Conference, the national advisory council, attended by thousands of officials as well as business leaders.
According to the Beijing Times, the authorities will strengthen security in the provinces of Gansu, Shaanxi and Qinghai, and in the Ningxia Hui and Xinjiang Autonomous Regions, and plan to train local police to fight terrorism.
Xinjiang, home to the Muslim Uighur minority group, sees sporadic clashes. Beijing authorities often blame violent incidents on Uighur extremists seeking autonomy for the region. Uighur activists, meanwhile, accuse Beijing of over-exaggerating the threat to justify their heavy-handed rule.
And finally, some media outlets are concerned about frequent demands in Hong Kong to reduce the quota for mainland visitors.
Tensions between mainland Chinese and Hong Kong residents have been running high in recent years. Hong Kong residents often complain that the influx of mainland Chinese, with some labelling them as "locusts", is affecting their lives.
Some activists have also started a "Hong Kong independence" campaign.
The Southern Metropolis Daily reports that the Hong Kong government has condemned the most recent protest that took place two weeks ago.
According a poll conducted by the Global Times, the "majority are angry" at the recent "anti-locusts protest" in Hong Kong. Among those who took part in the survey, nearly 60% of Hong Kong residents and about 80% mainlanders disapprove of the protests.
BBC Monitoring reports and analyses news from TV, radio, web and print media around the world. For more reports from BBC Monitoring, click here. You can follow BBC Monitoring on Twitter and Facebook.