China sacks security vice-minister Li Dongsheng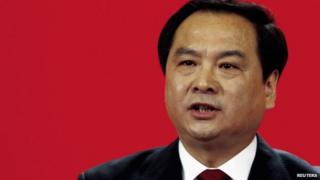 China says it has formally sacked the former vice-minister of its public security office, Li Dongsheng.
State media say Mr Li was placed under investigation for "serious disciplinary violations", usually a reference to corruption, in December.
It comes amid a series of investigations into officials linked to ex-security chief Zhou Yongkang.
The announcement comes a day after a speech by China's premier urging action against corruption was released.
In a speech given on 11 February, which state media widely publicised on Monday, Premier Li Keqiang "vowed complete transparency in government affairs" and urged auditors to be "brave in thoroughly probing [government] violations".
Li Keqiang admitted in the speech that 10,000 other officials were also fired last year for corruption violations, the BBC's Celia Hatton in Beijing reports.
Formal news of Mr Li's removal comes amid persistent rumours that China's anti-graft campaign is circling around Zhou Yongkang, who served as China's security chief before retiring in 2012, our correspondent adds.
Mr Li's formal dismissal was made in a short statement on China's central government portal on Monday.
Mr Li was appointed vice minister of public security in 2009, while Zhou Yongkang was in power.
While there has been no official comment on rumours that Mr Zhou is being investigated, several of his business and political associates have come under scrutiny in recent months.
Last week, state media said Ji Wenlin, the vice-governor of Hainan province who used to work under Mr Zhou, was being investigated by the authorities.
Several other top officials linked to Mr Zhou are facing investigations, including Sichuan officials Li Chuncheng and Li Chongxi, and former energy chief Jiang Jiemin.
Mr Zhou was also the patron of jailed former Chongqing party chief Bo Xilai.
Bo was found guilty of bribery, embezzlement and abuse of power, and sentenced to life imprisonment in September. Bo's supporters, however, believe he is the victim of a political purge.
Since taking office, China's new leader Xi Jinping has warned that corruption could topple the Communist Party, and launched an anti-corruption campaign he said would target both "tigers and flies" - high and low ranking officials in the government.