China media: Pollution woes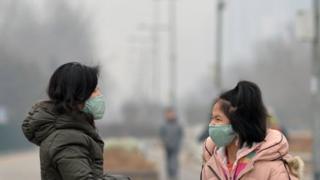 Persistent smog in China and the ongoing political chaos in Ukraine are dominating press headlines on Monday.
Papers are prominently reporting the heavy smog that has shrouded parts of China, while appealing to individuals to help fight the pollution.
Beijing raised its air pollution alert to orange, the second highest of the four-tiered system, on Friday. The authorities have also initiated an emergency response to stop construction work as well as prohibiting open-air barbecues in the city.
The Xinhua news agency reports that teams have been sent to regions worst hit by the pollution to inspect major polluting industries such as steel, coal chemicals, glass and cement, and to check construction sites.
The Global Times notes that these regions are still choking from smog and asks if the emergency actions are taken "in vain".
"When the emergency plan is activated, it means the pollution has hit a certain level, and the relief measures can only stop the situation from worsening," Ma Jun, director of the Beijing-based Institute of Public and Environmental Affairs, tells the daily.
The China Daily urges people to help the government in curbing pollution.
"Many seem to believe that pollution control has nothing to do with them and is something that only the government can deal with… they wear masks and use air purifiers, but never consider driving their car less or not setting off fireworks during festivals or finding ways of leading a lower-carbon lifestyle," it says.
The Beijing Times gives suggestions on how to survive the smog, while the Beijing News reports that patients flocked in droves to the hospitals, but a third of them with only mild symptoms did so "out of 'smog-fear'".
Ukraine crisis
In international news, papers are covering Ukrainian parliament speaker Oleksandr Turchynov's appointment as interim leader following the dismissal of President Viktor Yanukovych on Saturday.
A commentary in the Beijing Times says it remains a question "whether different factions are able to put their self-interests aside and focus on stability and development of the country", as two opposing forces, one supporting Russia and the other with pro-Europe inclinations, still exist in the country.
"Judging from the current roller-coaster style of the political situation, it is a long road to go from 'huge chaos' to 'great order', " it adds.
Echoing similar views, the Global Times says "countries, in particular large or medium-sized ones with huge populations, should learn how to carry out real reform".
Noting the division in Ukraine, the Beijing News instead suggests that the country needs a "third way" to end the political stalemate.
Yang Cheng, an expert on Russian affairs from East-China Normal University, says "granting Ukraine a neutral status" and a "push for wide-scale international aid" would be an ideal situation.
"Ukraine has to find a third path, a detached power [that would rise above the opposing forces], otherwise the turmoil will keep on repeating."
Quirky names
Elsewhere, media are reporting that China's moon rover Jade Rabbit or Yutu is experiencing "uneasy rest" again as the "mechanical issues that might cripple the vehicle are still unresolved".
Xinhua news agency says the rover entered its "third planned dormancy" on Saturday and is expected to stay in a power-off mode.
The moon rover first ran into trouble after experiencing a "mechanical control abnormality" on 25 January, before it entered its scheduled dormancy period.
And finally, quirky names such as "bun store" could no longer be used to buy a train ticket online from 1 March.
Known as 12306 website, the online ticket booking portal will require identity verification procedure before a purchase is made, the Southern Metropolis Daily reports.
The measures have been taken to prevent scalpers who buy tickets in bulk and sell them at a higher price, the paper explains.
BBC Monitoring reports and analyses news from TV, radio, web and print media around the world. For more reports from BBC Monitoring, click here. You can follow BBC Monitoring on Twitter and Facebook.