China media: "Mafia-style" crimes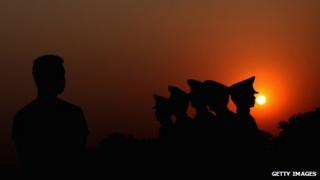 News of "mafia-style" crimes dominate press headlines on Friday, with media asking what "protections" alleged mobsters had in the past decade.
Media have reported that Liu Han, ex-head of mining conglomerate Sichuan Hanlong Group, has been charged along with his brother Liu Wei and 33 others with crimes including murder, intentional injury and organising a "mafia-style gang".
Liu Han was ranked 148th on Forbes' list of the richest Chinese business people in 2012 and was also a member of the Sichuan's Standing Committee of the People's Political Consultative Conference (an advisory body).
According to Xinhua, his gang has been active since 1993.
The news agency adds that members of the group have been accused of nine murders.
It says the gang was using "the road of blood" to open up the "path to wealth".
Xinhua adds that people in Guanghan, Sichuan Province, welcomed news of the arrests.
"Everyone clapped their hands with joy and blasted firecrackers, as though they were celebrating the spring festival,… exclaiming that 'Guanghan can now enjoy safety for at least 10 years!'" says the agency.
"People... had been worried that the murderers could walk away free," writes the Southern Metropolis Daily.
The paper adds that society "needs the strong weapon of law and the judicial system" to deal with "ruthless and tyrannical gangs".
The China Daily asks how was it possible for the group to avoid criminal probes for so long, and says it is now important to hunt down those who have "extended the umbrellas of protection" over Liu Han.
"Dismantling Liu's network is easy. But without smoking out his patrons, there is no guarantee that others will not take his place one day," the paper adds.
Thick smog
Media are reporting that Beijing and some parts of China are on alert, as heavy smog is expected to shroud the skies.
Beijing authorities have issued a "yellow alert" and warn that the capital Beijing, the city of Tianjin, as well as Hebei province and parts of Shandong province are going to experience heavy air pollution for at least three days, various media outlets report.
According to the four-tier alert system, red, orange, yellow and blue are used to indicate the level of air pollution, with red being the most serious.
The current yellow-alert does not require any mandatory actions but people are advised to limit the use of cars and turn to public transport instead.
The China Daily says that the public has hit out at the Beijing municipal authorities for issuing only a blue alert when the city was already covered in heavy smog.
A commentary in the Beijing Youth Daily notes that the emergency response can only provide temporary relief. It urges authorities to deliver on their promise to use "heavy-handed measures" to find a long-term solution to the problem.
Elsewhere, media are analysing if WeChat, China's messaging app, is able to enter the US market after Facebook acquired WhatsApp for $19 bn (£11.4bn).
WeChat, owned by one of China's largest internet companies, Tencent Inc, was first launched in 2011 and has become a popular messaging tool in emerging markets, including Southeast Asia and Latin America.
According to the Beijing News, WhatsApp has 450 million active users while Wechat has 300 million. It analyses the market potential of the app and concludes that it is worth more than $19 bn.
Wechat has plans to enter the US market, but experts say this will be difficult due to "differences in user groups and cultural backgrounds", Zhang Yi, CEO of iiMedia Research, tells the Global Times.
And finally, a 17 year old student has circulated a fake photograph of his principal that claimed to show how he was detained during a sex crackdown in the city of Dongguan, the Beijing Times reports. The paper explains that the pupil did this in the hope that it would delay the school from opening.
Police launched a crackdown in Dongguan in southern China after state-run China Central Television (CCTV) exposed the existence of a rampant sex industry there a few weeks ago.
The principal made a complaint to the police after he received a doctored photograph of himself in a CCTV screenshot of the raid, with captions saying that he "has been caught in Dongguan for prostitution, so school term is delayed".
The truth was revealed when the head master appeared at the opening ceremony for the new school term, while the boy was given a chance to "reflect" on his behaviour, writes the Beijing Times.
BBC Monitoring reports and analyses news from TV, radio, web and print media around the world. For more reports from BBC Monitoring, click here. You can follow BBC Monitoring on Twitter and Facebook.