China media: Talking to Taiwan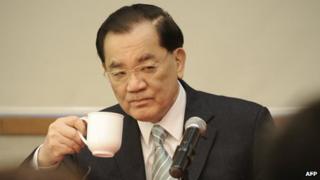 Media give prominent coverage to the meeting between Chinese President Xi Jinping and Lien Chan, honorary chairman of the ruling Kuomintang party in Taiwan, who is on a visit to China.
Xinhua news agency quotes Mr Xi as saying that Beijing respects "the social system and lifestyle" of "Taiwan compatriots" and is willing to talk to Taipei.
"Regarding the long-existing political differences across the Taiwan Strait, we are willing to hold consultations with the Taiwan side on an equal basis under the One-China principle and make reasonable arrangements," Mr Xi said.
Wang Hailiang, a researcher at the Taiwan Research Institute in Shanghai, tells the China Daily that these words should please pro-independence politicians in Taiwan.
"The mainland would not stop exchanges with Taiwan because of differences. Instead, Xi's words must assure the Democratic Progressive Party [Taiwan's opposition] that Beijing is willing to promote peaceful development with the whole island," the expert says.
Meanwhile, media are paying great attention to a poisoning case in which a former postgraduate student was handed the death penalty for killing his roommate with lethal poison "over trivial matters".
Reports say that Lin Senhao, who was a medical student at the prestigious Fudan University in Shanghai, used a deadly chemical compound from the laboratory to contaminate the water dispenser in his dormitory last April, causing his roommate Huang Yang to die from organ failure.
Lin told reporters just before the court sentence that while he had no major disagreement with Mr Huang, he disliked his "proud looks", and decided to "play a prank" on him, according to various media outlets.
A commentary on the Xinhua news agency says the case reflects the "immaturity" of university students and urges them to nurture the ability to deal with complicated social problems.
Gay blogger
Elsewhere, an internet company, 58.com, has taken an openly gay blogger to court after he accused it of "discriminating against gay people" and asked for 500,000 yuan ($82,000; £50,000 ) in damages.
Marching into a Beijing courtroom with a rainbow flag, accused blogger Zhao Peng chanted slogans protesting against the alleged discrimination against him, Beijing News reports.
The 30-year old told reporters he had appeared on a TV recruitment programme in which the CEO of 58.com had agreed to offer him a job but had not kept his promise.
Mr Zhao then wrote online that the company had turned him down because of his sexual orientation, something which 58.com denies.
The Beijing Times adds that the blogger has more than 2.5 million followers on weibo, China's equivalent of Twitter.
And finally, the "prototype sizes" of uniforms for the Chinese army will have to be changed as soldiers have grown bigger and put on weight because of rising living standards in the country, media report.
Soldiers have grown taller by 2 cm and their waistlines have increased by 5 cm on average in the past 20 years the People's Daily quotes the research institute of the People's Liberation Army as saying.
BBC Monitoring reports and analyses news from TV, radio, web and print media around the world. For more reports from BBC Monitoring, click here. You can follow BBC Monitoring on Twitter and Facebook.