China media: Kerry's visit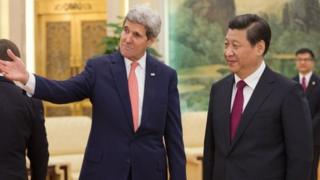 Media are analysing Beijing-Washington ties as US Secretary of State John Kerry begins his China visit.
Mr Kerry arrived in Beijing on Friday for a two-day visit "to reaffirm US commitment to pursuing a positive relationship with China".
China is the second stop in Mr Kerry's Asia trip after South Korea. He will also visit Indonesia and the United Arab Emirates.
Ruan Zongze, vice-president of China Institute of International Studies, tells the China National Radio that US-China relations, the Air Defence Identification Zone, China-Japan territorial disputes and North Korea's nuclear issue are likely be on the agenda of the meeting.
"There will be talks on co-operation, but there will also be disparities… In reality, there is a lack of trust from both sides. The US says it wants to see China become strong and prosperous, but some of its actions raise questions whether it really wants to see China develop," says Mr Ruan.
The Xinhua news agency hopes that Mr Kerry's visit will bring "positive energy" and notes that as this year is the 35th anniversary of diplomatic ties between China and the US, "there will be several meetings between leaders of the two countries".
However, the commentary also criticises the US for supporting Japan and describes the US negative response to China's Air Defence Identification Zone as "unreasonable".
Echoing similar sentiments, the Global Times Chinese edition says that the problem with China and the US is "not simply about how many times the leaders are meeting", but the US "rebalancing Asia" policy has triggered pressure on China, causing China to feel "more unbearable compared to five years ago".
"The US has strong ability and leverages which would shape its stance towards China. Communications help, but more importantly, we must make more friends with a more proactive foreign policy (outside of China-US relations) for Washington to be 'friendlier' with us," the paper adds.
Meanwhile, media continue to report on the itinerary of Wang Yu-chi, chief of Taiwan's Mainland Affairs Council, whose official visit to China is concluding on Friday.
The Beijing Times briefly reports that Mr Wang visited a TV station in Shanghai and said he will take the opportunity to exchange views with mainland China.
Some media outlets have noted reports in the Taiwanese media that Mr Wang brought up the topic of a "Xi-Ma meeting" for the first time, reviving speculation on a potential meeting between Chinese President Xi Jinping and his Taiwanese counterpart Ma Ying-jeou during the Asia-Pacific Economic Co-operation (APEC) forum in November in Beijing.
However, Taiwan's officials later said that the topic was brought up during a "tea chat" and "each side has presented the stance on this matter".
Mr Ma has previously suggested a meeting with Mr Xi on the sidelines of the APEC meeting, but Beijing has rejected the offer, saying it will not hold talks with Taiwan in an international event.
Valentine's Day confusion
Elsewhere, the debate about the sex trade crackdown in Dongguan, which prompted sympathy for the sex workers from a section of the media and experts, continues as more arrests were made.
Police launched the crackdown following a state TV report on prostitution in the southern city on Sunday.
Hours after the report, police arrested 67 people and shut down 12 entertainment venues, while two police chiefs were suspended.
The Xinhua news agency reports that 10 more police officers have been punished for "serious neglect of duty".
Prostitution is illegal in China, but the sex trade is widespread. However, the TV channel's expose has divided opinion, with some criticising the police effort.
Defending the crackdown, a commentary on the People's Daily criticises the sympathetic voices and maintains that "defiling the bottom line of civilisation is not tolerable".
"To those who are shouting injustice for those arrested, we would like to ask using a popular phrase on the internet: does your family know that you are so sympathetic towards sex workers and support the sex trade?… Standing up for the sex industry in the name of 'freedom' is forgetting that freedom has a bottom line," it adds.
And finally, this year's Valentine's Day falls on the same day as Yuanxiao or Lantern Festival, a traditional occasion where family members gather to enjoy tangyuan (glutinous rice balls) and watch lantern display.
However, some young Chinese are facing a dilemma over spending their time with their lovers or parents.
According to the Global Times, a dating site survey shows that about 40% of the nearly 14,000 people polled would choose family ahead of lovers.
Likening the choice to "local films and Hollywood productions… Mo Yan and Shakespeare", the People's Daily calls for a combination of modern trends and traditional culture, as "tangyuan and roses" is a "perfect match" after all.
BBC Monitoring reports and analyses news from TV, radio, web and print media around the world. For more reports from BBC Monitoring, click here. You can follow BBC Monitoring on Twitter and Facebook.