China media: Sochi diplomacy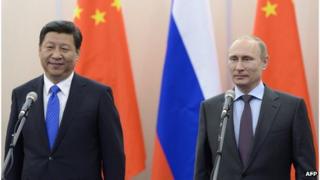 Media are giving prominent coverage to the meeting between President Xi Jinping and his Russian counterpart Vladimir Putin in Sochi.
Mr Xi arrived in the city on Thursday to attend the opening ceremony of the Winter Olympics and to show support for their host, Russia, according to a statement on the Chinese foreign ministry website.
Xinhua news agency reports that shortly after his arrival, Mr Xi offered congratulations "in person" to Mr Putin, as is "the custom for Chinese people when their neighbours have occasions to celebrate".
The People's Daily says the two leaders exchanged views on bilateral co-operation and agreed to hold commemorative events in 2015 to mark the 70th anniversary of the end of World War Two.
Ruan Zongze, vice-president of the China Institute of International Studies, tells China Daily that this would send a "warning to Japan", an ally of Nazi Germany during the war, as both countries were in agreement on the need to "uphold historical facts".
The paper also quotes Feng Yujun from the China Institute of Contemporary International Relations who says that Russia was worried about the "revival of militarism in Japan".
During the meeting, the two leaders held a short video conference with naval commanders from both countries, praising their efforts for escorting ships that are removing chemical weapons from Syria in compliance with a UN resolution, Xinhua news agency reports.
Commenting on the absence of several world leaders from the Sochi Olympics, including US President Barack Obama, the Global Times says this "attitude by the West" should "sound alarm bells" for China.
"Do not think that adopting a 'Western-style democracy' will completely ease tensions with Western countries and gain their approval. The attitude of the West towards big powers like China and Russia is influenced by their geopolitical interests," the paper points out.
The Aquino controversy
Elsewhere, some media outlets continue to criticise Philippine President Benigno Aquino for comparing China's leaders to Hitler in a recent New York Times interview.
The Global Times sees Mr Aquino's comments as "hyping up his country's status as a 'victim'" and warns that "opposing" China will bring no benefits to Manila.
"Manila must have found it increasingly difficult to participate in China-ASEAN affairs. China is speeding up its pace to enhance economic co-operation and political talks with ASEAN countries without this archipelago state," writes the daily.
The Chinese version of the paper notes that Japan has backed Mr Aquino's comments by saying that his remarks were "understandable".
The paper adds that Japan and the Philippines are "riding the opportunity" after the US expressed "growing concerns" over China's "pattern of behaviour".
The China Daily adopts a more measured tone and reminds Manila that "the Chinese people did extend a helping hand to their counterparts in the Southeast Asian country following the recent devastating typhoon". It urges Mr Aquino to "resolve territorial dispute with China through dialogue and consultation".
New US ambassador
Media are also commenting on the appointment of Senator Max Baucus as Washington's new US ambassador to China.
State-owned China News Service notes that the 72-year-old Democrat intends to establish a "strong and balanced economic relationship with China".
In another report, the news agency says that Mr Baucus was previously known for his hardline approach towards China and had criticised Beijing's "unfair trade practices".
And finally, firefighters were in full protective gear to capture an aggressive monkey found loitering on a highway in Sichuan Province.
Sichuan News Network reports that the fire station received a call for help from the police after an officer was bitten by the animal when he tried to tame it.
The "monkey-man war" lasted for two hours and attracted a large group of curious onlookers who were actively taking photos.
reports and analyses news from TV, radio, web and print media around the world. For more reports from BBC Monitoring, click here. You can follow BBC Monitoring on Twitter and Facebook.