China media: Snow chaos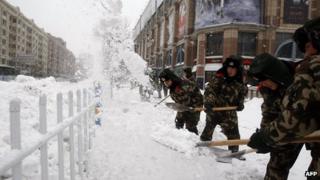 Media are reporting that snowstorms have disrupted railway transport and led to road closures, adding chaos to an already busy travel rush.
Tens of millions of people are making their way back to the cities as the week-long Spring Festival holiday comes to an end but their journey has been disrupted by the blizzards that swept across many parts of the country.
The Xinhua news agency reports that there is heavy snow in many regions, including Ningxia, Shaanxi, Shanxi, Hebei and Henan provinces.
The meteorological authority has warned that snowstorms will persist in most northern regions and are expected to spread towards east and central China, the agency adds.
Highways in several provinces are closed as snow and ice has made driving conditions hazardous, while trains are slowing down to ensure transport safety.
The People's Daily reports that the railway operator in Wuhan has mobilised more than 10,000 people to shovel snow.
According to reports, the number of road travellers in China hit 89.1 million on Wednesday and there were massive traffic jams on several major highways, while authorities estimated a total of 7.8 million railway trips were made on the same day.
Aquino's 'Hitler' remark
Meanwhile, media have responded to Philippine President Benigno Aquino's comments that likened China's rulers to Hitler.
Mr Aquino told the New York Times on Tuesday that the world must learn a lesson from 1938, when the UK and France allowed Hitler his claims to Czech territory.
In response, an article on the Xinhua news agency slams Mr Aquino's remarks as "ignorant".
However, major broadsheets have been so far silent on the issue, with only a handful factually reporting the story, while noting that, according to Manila, the president did not intend to offend China.
In its report on the interview, the Beijing Times makes no mention of the Hitler comparison and notes instead that Mr Aquino once again refused to apologise for the 2010 bus hostage-taking siege in Manila that killed eight Hong Kong tourists. He argued that "doing so could create a legal liability".
In contrast, state-owned media are criticising Naoki Hyakuta, a governor of the Japanese public broadcaster NHK, for claiming on Monday that Nanjing Massacre "never happened".
In a harshly worded article, the China Daily says that Naoki Hyakuta's statement showcases a "culture of shamelessness" and adds that "trust is the last thing that [Japanese PM] Shinzo Abe and his men deserve".
China says up to 300,000 civilians and soldiers died in Nanjing over the winter of 1937-38 after the Japanese military entered the city. Some Japanese historians dispute these figures.
Sochi Olympics
Elsewhere, state-run media continue to give prominent coverage to President Xi Jinping's trip to the Russian city of Sochi for the Winter Olympics that will start on Friday.
The People's Daily publishes a series of articles that reiterate the view that Mr Xi's trip has highlighted the strong relations between China and Russia, and the success of Beijing's "sports diplomacy".
In an article that includes a video report , the daily highly praises Sochi for having successfully transformed itself from a "simple small town" into something "grand" and describes the venue of the Games as "convenient" and "high-tech".
The China Daily adds that Mr Xi's visit to Sochi also aims to win support for China's bid to host the 2022 Winter Olympics.
The Chinese president is also expected to hold talks with his Russian host Vladimir Putin, the paper says.
And finally, a man in Nanjing city of Jiangsu Province has set a two-door VW Beetle on fire "to keep warm".
According the Yangtse Evening Post, the man, in his twenties, was drunk during the incident.
"I thought I could light up the car to keep warm, but as the flames caught on, it became too hot, so I ran away," he was quoted as saying.
BBC Monitoring reports and analyses news from TV, radio, web and print media around the world. For more reports from BBC Monitoring, click here. You can follow BBC Monitoring on Twitter and Facebook.