Max Baucus approved as China ambassador by US Senate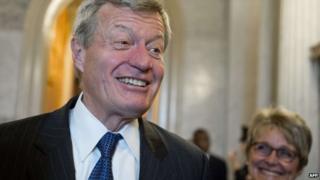 The US Senate has unanimously approved Senator Max Baucus as the new US ambassador to China.
The Senate confirmed Mr Baucus, who was nominated by President Barack Obama to the post, by 96 votes to zero.
The Democrat Senator is chairman of the Senate Finance Committee and supported China's admission into the World Trade Organisation in 2001.
He replaces Gary Locke, former commerce secretary and the first Chinese American in the position.
Speaking after the confirmation vote on Thursday, Mr Baucus said: "The relationship between the US and China is one of the most important in the world and we, both China and the United States, need to get it right."
Developing "confidence and trust" between the two sides would be "a top priority", he added.
Mr Baucus has represented Montana at the Senate since 1978, but had announced last autumn that he would not be seeking re-election. He was nominated as ambassador to China in December.
Senators from both parties praised Mr Baucus for his work.
The 72-year-old is experienced in US trade policy, but is considered to have less experience in military and security issues.
Tensions in the region have risen over territorial disputes between China and its neighbours in the East China Sea and South China Sea.
Mr Baucus is also known for his work on Mr Obama's health care bill, which he said was "helping millions of Americans".