China media: Anti-graft campaign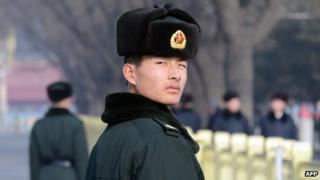 Anti-graft efforts are in the media again as an official report reveals that there is widespread corruption "in some places" which is difficult to stamp out.
The Beijing Times reprints a Xinhua news agency story about the findings of the Research Division of the Communist Party's Central Commission for Discipline Inspection.
"The corrupt activities have existed for a long time, involving a large number of people and are widespread, but investigations have not been carried out", the anti-graft watchdog said.
Commenting on the issue, the China Daily says that there will be consequences for officials who have shielded corrupt subordinates.
"As part of its efforts to promote clean governance, the anti-graft agency has pledged to punish both corrupt officials and their leaders who failed to supervise them effectively," writes the daily.
"New style" diplomacy
Meanwhile, media are discussing China's new diplomatic efforts as President Xi Jinping prepares to travel to the Winter Olympics that will kick off shortly in the Russian city of Sochi.
Last month, the Chinese foreign ministry announced that Mr Xi would attend the opening ceremony in order to show support for Russian President Vladimir Putin.
Several key world leaders, including US President Barack Obama, French President Francois Hollande and British Prime Minister David Cameron, will not be present at the Games. According to some reports, they have decided not to attend because of Russia's poor human rights record.
Media in China note that this is Mr Xi's first overseas trip for this year, and also the first time that a Chinese leader will attend a major sporting event.
Li Jianmin, an expert from the Chinese Academy of Social Sciences, tells Xinhua news agency that the new leadership in Beijing has adopted a more active approach to diplomacy.
"Attending the Winter Olympics showcases Chairman Xi's style of diplomacy… A comprehensive, mature and clear co-operation mechanism between China and Russia already exists, so the attendance this time is a show of morality and diplomatic support," Li explains.
Echoing a similar sentiment, the People's Daily writes that China has shaped its image by "upholding international morality".
The daily concludes that the "international community" has reacted "positively to China's sports diplomacy".
Shooting spree
Moving on to other news, media are reporting on a shooting spree in China's southwest Yunnan province and wondering how the suspect got hold of a gun, as firearm ownership is tightly controlled in China.
Believing that his wife had affairs with other men in the village, the suspect, 38-year-old Shao Zongqi, allegedly killed 6 people and wounded 3 more on 30 January, the eve of Chinese New Year.
Police have found the assault rifle used in the killings, along with 40 bullets. Media quote police reports as saying that the truck driver, who crossed borders regularly, got it from "outside the country".
According to the Beijing Times, the suspect bought the rifle in Burma, also known as Myanmar.
And finally, media report that three men have been charged with illegally organising a trip to China for 41 Cambodian women who were then supposed to enter into arranged marriages.
Marriages to foreign brides have become more widespread in China as the country faces a gender imbalance due to a traditional bias towards male children. Older men, especially those from rural areas, are said to be having great difficulties in finding a wife.
According to Xinhua news agency, the men conspired with counterparts in Cambodia to help the women apply for Chinese tourist visas and had arranged for them to meet with Chinese men. They would get paid if they managed to find a successful match.
BBC Monitoring reports and analyses news from TV, radio, web and print media around the world. For more reports from BBC Monitoring, click here. You can follow BBC Monitoring on Twitter and Facebook.