China media: New Year greetings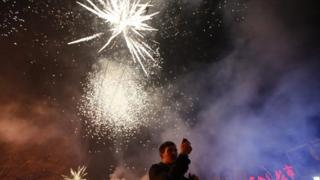 Media offer New Year greetings, while discussing the challenges China faces in the year ahead.
On Lunar New Year's Day, Chinese media outlets dwell on a plethora of unresolved problems facing the country at home and abroad in the Year of the Horse, most notably tensions with Japan.
The War of Jiawu, or the first Sino-Japanese War of 1894, and the Year of the Horse starting on 31 January 2014 are both Jiawu years in the Chinese lunar calendar.
The official Xinhua news agency recalls that the first Sino-Japanese war broke out in the Jiawu year of 1894.
The Japanese navy defeated the fleet of the former Qing Dynasty (1644-1911), which was the first time that China had been vanquished by Japan in a war.
The agency also contrasts the leaders of Japan and Germany, who were both born in another Jiawu year.
"Both born in 1954, another year of 'Jiawu', [Japanese Prime Minister Shinzo] Abe and German Chancellor Angela Merkel represent entirely different attitudes towards their countries' pasts. Germany has won approval from many for the sincerity its leaders have shown, but Japan still has a long way to go," the agency says.
"In the Year of Horse, the Sino-Japanese relationship will require leaders from both sides to demonstrate wisdom and understanding," it adds.
Hong Kong's Ming Pao warns that Japan could try to "revive" its victory from 120 years ago by escalating a territorial dispute over islands known as the Senkaku in Japan and Diaoyu in China.
"If Japan vainly attempts to revive the glory of 120 years ago, the Chinese nation led by the Chinese Communist Party must do everything possible and make the greatest efforts to ensure that Japan can no longer prevail and in turn wipe out a century of shame," it stresses.
On the other hand, Hong Kong's Oriental Daily News says China is too overwhelmed with domestic problems such as corruption, disparity and pollution to deal with a purported Japanese and US plot to "split China into seven or eight pieces".
"If China wants to get through a crisis situation during the Jiawu year, it must be at peace internally to resist foreign aggression. As long as it deals with internal affairs properly first, it can then focus energy on dealing with Japan," it says.
Pollution and economy
Besides territorial rows with Japan, Xinhua also foresees the biggest challenges for China in the Year of the Horse as pollution, slowing economic growth, rising labour costs, natural resource depletion, unbalanced regional development and a growing gap between the rich and the poor.
In its New Year editorial, the Guangzhou-based Southern Metropolis Daily reflects on how pollution, both in the cities and countryside, has become a major concern for ordinary Chinese people.
The Southern Weekend, another Guangzhou newspaper, hopes that the government will redouble its anti-corruption campaign after the sacking of scores of provincial and ministerial-level officials in the outgoing Year of the Snake.
Over in Hong Kong, geomancy and astrology masters are warning that Hong Kong will face a "combustible" Year of Horse that is filled with "chaos, disputes and a pessimistic economic outlook", the South China Morning Post reports.
China will be particularly prone to disasters and diplomatic tension, possibly with Japan over territorial disputes, Feng Shui expert Alion Yeo tells the newspaper.
Elsewhere, Beijing's city government has sent a public letter to thank locals who heeded its call to replace fireworks with flowers and electronic substitutes for the celebrations on Thursday night.
The Beijing News says the capital suffered less air pollution on Lunar New Year's eve as fewer fireworks were set off.
The Chinese traditionally set off firecrackers and fireworks during the New Year to drive away evil spirits and bad luck.
However, chronic smog in recent years has led to a drop in firecracker and firework sales this year because of concerns over pollution.
And finally, state broadcaster China Central Television's New Year gala on Thursday night, which is known as chunwan (spring evening), has as usual received a mixed reception of praise but also a great deal of "tucao" or dissatisfied venting on the internet.
This year's gala was directed for the first time by Feng Xiaogang, a maverick filmmaker known for his comedy dramas.
The Ming Pao says netizens have ridiculed Feng Xiaogang for featuring a performance of the "Red Detachment of Women", a Cultural Revolution (1966-1976) era ballet that glorified the Communist Party.
The Beijing Times, however, stresses that Feng's initial target of 5-10% change in the show's staid format was by no means easy to pull off.
Other highlights included French actress Sophie Marceau singing "La Vie En Rose" in a duet with Chinese pop star Liu Huan at the gala, as well as a martial arts performance directed by Hong Kong kung fu star and actor Jackie Chan.
BBC Monitoring reports and analyses news from TV, radio, web and print media around the world. For more reports from BBC Monitoring, click here. You can follow BBC Monitoring on Twitter and Facebook.