China's Communist Party expels former Nanjing mayor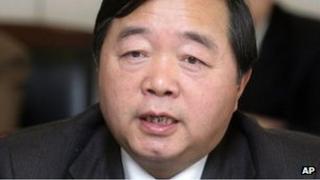 China's ruling Communist Party has expelled the former mayor of Nanjing city for bribery and described him as "morally corrupt".
An investigation showed Ji Jianye and his family received money and gifts and that he used his post to "seek benefits for others", a party statement said.
The case will now be handed to police and Mr Ji could face criminal charges.
He is one of the most senior officials caught in China's anti-corruption drive after a leadership change in 2012.
President Xi Jinping, after assuming power and becoming Communist Party chief, had warned against corruption, saying that it threatened the survival of the party.
Several officials have been dismissed since, including the former railways minister and a top economic planner. Other top officials have also come under scrutiny.
Mr Ji "took advantage of his position to seek benefits for others" and "received a huge amount of money and gifts either by himself or through his family members", Xinhua news agency says, citing a statement from the party's Central Commission for Discipline Inspection.
Mr Ji was sacked in October 2013 over "suspected serious disciplinary violations".
A report on the Communist Party mouthpiece People's Daily at the time said his case could involve about 20m yuan ($3.3m; £2m) in funds.
Mr Ji became mayor of Nanjing in January 2010 and was also the city's deputy party secretary.
Nanjing is the capital of Jiangsu province and home to about seven million people.