NYT journalist leaves China over visa delay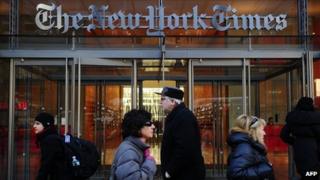 A New York Times journalist has left Beijing because Chinese authorities have not granted him a visa.
Austin Ramzy, who had worked in China for six years, applied for a visa in June after joining the NYT from Time magazine.
On Thursday he flew out of Beijing after Chinese authorities said his visa would not be ready in time.
His case is being seen as the latest effort by China to pressure foreign correspondents working in the country.
The Foreign Correspondents' Club of China (FCCC) pointed out he was the third NYT journalist not to have been given journalistic accreditation or a resident journalist visa in 18 months.
The New York Times angered Chinese authorities with a story it published in late 2012 on the personal wealth of relatives of former Premier Wen Jiabao. Its website has since been blocked in China.
In a press briefing on Monday, Foreign Ministry spokesman Qin Gang said Mr Ramzy had flouted the rules "when he failed to renew his journalist card, and did not properly update his work situation and residence permit".
Mr Qin said authorities had given Mr Ramzy an extra 30 days to sort out his affairs after his visa expired at the end of 2013, and that his NYT request for accreditation was still being processed.
The FCCC said that the suggestion Mr Ramzy had not complied with regulations was "disingenuous", saying "the regulations are unclear and have not been applied to other journalists in similar situations to that of Ramzy".
"In these circumstances it is difficult to avoid the conclusion that the authorities are punishing the New York Times for articles it published concerning Premier Wen Jiabao and his family," it said.