China media: Obama's speech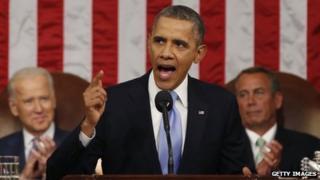 Media are analysing President Barack Obama's State of the Union address, while taking note of his brief mention of China.
In his speech, Mr Obama outlined his priority topics for the year, including healthcare, minimum wage and the pullout from Afghanistan.
The Beijing News sees "nothing new" in the speech because Mr Obama did not elaborate much on his foreign policy, but adds that "it is noteworthy that he did not mention the word 'rebalance' in his speech".
The "rebalance" towards the Asia-Pacific region was a strategy announced during Mr Obama's first term, which was widely seen as a way to contain China.
"Mr Obama mentioned China twice in his speech, but all in relation to economic issues… which means, in the coming year, he will focus more on developing economic relations with China," Li Donghai, from China Foreign Affairs University, tells the paper.
Analysing the speech, Jin Canrong, an expert on US-China relations, tells the Global Times that Mr Obama's address was largely targeted at US citizens.
"This year, when Mr Obama mentioned China, it is to tell the Americans, look, we are stronger than China in these aspects. To an extent, China has become a benchmark in the heart of Americans," he says.
Some media outlets have also raised questions about Mr Obama's claim that the US has surpassed China to become the top investment destination.
The Hangzhou Daily responds by saying that "there is nothing to be feared" and that this could be interpreted as "a welcome speech for China's enterprises".
Meanwhile, media are giving prominent coverage to Hong Kong's sanctions against the Philippines after Manila failed to issue a formal apology to families of the victims of the 2010 bus hostage crisis.
The deadly bus siege took place when Rolando Mendoza, a disgruntled local police officer, hijacked a Hong Kong tourist bus in Manila. Eight Hong Kong citizens died and seven were seriously injured in the attack.
Philippine President Benigno Aquino has refused to apologise, insisting that the deaths were caused by Mr Mendoza. The Philippines has however expressed deepest regret and condolences.
Hong Kong Chief Executive CY Leung on Wednesday declared that his government had decided to scrap visa-free access for all Philippine diplomatic and official passport holders in the first phase of sanctions.
Chinese foreign ministry spokeswoman Hua Chunyin says Beijing fully supports the Hong Kong administration's endeavour to properly handle the aftermath of the hostage crisis and urges the Philippines to show sincerity in resolving the issue, the China Daily reports.
The Beijing News reports that the sanctions will affect about 800 people, but if Manila were to "take similar retaliatory measures", the impact on Hong Kong will be "comparatively small".
Red envelopes
In domestic news, state-run media are giving front-page coverage to a party attended by more than 2,000 high-level officials as the Chinese New Year approaches.
President Xi Jinping extended festive greetings to everyone across the country including ethnic minorities, as well as all overseas Chinese and "international friends who supported China's modernisation".
Premier Li Keqiang used a Chinese idiom for the Year of the Horse to say that his government was "taking the lead" for deeper reform and tackling corruption.
Elsewhere, some media outlets report on Japan's contingency plans to deal with China's military aircraft entering the airspace over a disputed set of islands in the East China Sea.
The islands, known as Senkaku in Japan and Diaoyu in China, are a source of rising tension between the countries.
The Global Times cites a report by Japanese paper Sankei Shimbun about the series of actions Japan's Air Self-Defence Force plans to take.
The measures include "forced landing" and "arresting the pilots" if China Coast Guard planes enter the airspace over the disputed islands in the East China Sea, as well as Japan's southern and western regions, it adds.
The Global Times' Chinese edition notes that Japan has released a guideline on "airspace invasion" for the first time and describes Tokyo as trying to "relive the memory of Sino-Japanese war" in 1894.
And finally, Digital Red Envelope, a new mobile app developed by China's largest internet company Tencent for WeChat (text messaging platform) users to send money electronically to friends, has gained popularity in the country, the Global Times reports.
Red money envelopes or "hongbao" are seen as auspicious and are traditionally handed out during the Chinese New Year and other major social events such as weddings and birthdays.
The app also allows users to play "snatching hongbao" game, prompting the Beijing News to predict that it will grab more attention than the "much criticised Spring Festival Gala".
BBC Monitoring reports and analyses news from TV, radio, web and print media around the world. For more reports from BBC Monitoring, click here. You can follow BBC Monitoring on Twitter and Facebook.