China media: Abe in India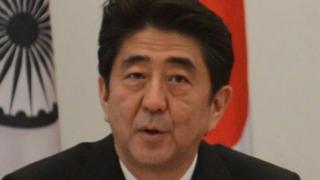 Media are closely following the development of Japan-India relations while noting Prime Minister Shinzo Abe's "special treatment" in India during his official visit.
India celebrated its Republic Day on Sunday with Mr Abe as a guest of honour at the parade. He is seeking to strengthen economic and political ties with the country on his three-day trip to the country.
He has also announced $2bn (£1.21bn) in loans for infrastructure projects in India.
Noting India's support for Japan's position over China's air defence zone, Qianjiang Evening News describes Tokyo's loan offer as a bid to "win India over".
However, analysts tell the paper that India places more importance on diplomatic relations with the US and China, and Delhi's interest with Japan is more on economic issues.
"Aside from economic co-operation, it seems that it is not easy for Mr Abe to approach India," says Zhou Yongsheng from China Foreign Affairs University.
The Chinese version of the Global Times observes that India has "reserved the special seat for Mr Abe" but wonders if Delhi would "easily be bounded" by Tokyo to act against China.
Lu Hao, from the Chinese Academy of Social Sciences, tells the paper that even though India needs Japan to increase its influence in the region, it would not "sacrifice" its independence.
'Violent sculpture'
In other news, several state mouthpieces, including the People's Daily, have published congratulatory messages by the presidents of China and France as the countries celebrate 50 years of diplomatic ties.
Commentaries recall that Paris became the first Western power to recognise the Communist government under former French President Charles de Gaulle and hope that both countries will strengthen their strategic ties in future.
"Over the past 50 years, both countries have listened to each other and relied on the principle of mutual respect, developing a comprehensive strategic partner relationship and also push for a balanced development of the world," says Zhai Jun, Chinese ambassador to France.
Cutting short the diplomatic rhetoric, the Global Times instead calls for a "breakthrough" and suggests perhaps "Paris needs another Charles de Gaulle to draw the two countries closer".
"We can sense from French public opinion that they hold similar views with other European states toward China. The 'gene of Charles de Gaulle', which refers to the foresight to set up a platform between China and Europe, seems nowhere to be found among the majority of the French people," the paper observes.
Meanwhile, media have also briefly carried the news of China's navy patrolling the Paracel and Spratly islands - both claimed by China and other South East Asia nations - in the South China Sea over the last week in what they call a show of territorial sovereignty.
The China Daily gives further details that missile destroyers Haikou and Wuhan conducted anti-submarine drills during the patrol.
"The ships will continue to sail south and practice tactical manoeuvres in the western Pacific and Indian Ocean," the paper adds.
And finally, a series of sculptures depicting a famous hero stabbing a woman in a high-end shopping mall in Shenyang, northeastern China, is raising eyebrows.
Wu Song, a hero famous for killing a tiger with bare hands in classical Chinese novel the Water Margin, is shown holding a dagger in one hand and an improperly clad Pan Jinlian, his adulterous sister-in-law who caused the death of his brother, on the other.
The suggestive pose of the works by reputed Chinese artist Li Zhanyang have been referred to as "pornographic", while some defended it as saying "it is a form of art", according to Beijing Morning Post.
BBC Monitoring reports and analyses news from TV, radio, web and print media around the world. For more reports from BBC Monitoring, click here. You can follow BBC Monitoring on Twitter and Facebook.