China tries four more transparency activists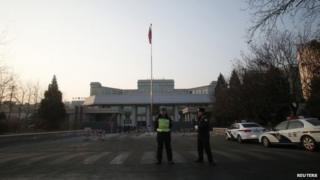 China has put four more rights activists on trial, a day after the leader of their transparency movement was handed a four-year jail term.
The activists - like others on trial last week - are accused of gathering crowds to disrupt public order.
Their leader, lawyer Xu Zhiyong, was sentenced to prison on the same charges on Sunday.
Meanwhile, prominent dissident Hu Jia was taken from his home by security officials on Sunday.
Security was tight at the court house, with foreign journalists and diplomats being stopped from approaching, reports said.
Two of the activists, Ding Jiaxi and Li Wei, dismissed their lawyers, one of their lawyers told Agence-France (AFP) news agency. Others have used the move in the past to delay proceedings.
The other activists, Zhang Baocheng and Yuan Dong, pleaded innocent, said Chen Jiangang, who represents Mr Zhang, AFP added.
The four are part of Mr Xu's informal grassroots group, New Citizens Movement, which has campaigned for government officials to reveal their wealth to curb corruption.
Rights groups have criticised President Xi Jinping - who pledged to fight corruption - over the trials of the activists.
They are being seen as a sign that the leadership remains unwilling to tolerate any kind of organised opposition.
On Sunday, Hu Jia, one of China's most high-profile dissidents, was detained.
His lawyer, Mo Shaoping, told the Associated Press news agency that it was also on suspicion of disrupting public order.