China activist Liu Yuandong on trial in Guangzhou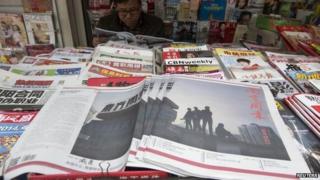 A court in China has started the trial of activist Liu Yuandong, one of several activists in court this week.
Mr Liu, a leader of a movement which has organised small protests urging an end to one-party rule, is accused of disrupting public order.
The charge relates to rallies last year to protest against censorship at an influential newspaper.
His trial starts with the verdict expected in the case of another prominent activist on Sunday.
Liu Yuandong started the Southern Street Movement in Guangzhou and was part of protests against the censorship of the Southern Weekly newspaper.
Security was tight as his trial started, with reports saying there were hundreds of police blocking the area.
Microblog posts from his supporters said they were beaten by police, Reuters news agency reports.
The Guangdong-based paper, also known as the Southern Weekend, became embroiled in a censorship row in January 2013 with local party officials after the wording of a New Year message calling for reform was changed.
Mr Liu is also being charged with falsely reporting capital in a business registration, according to the Associated Press (AP) news agency.
Meanwhile, a lawyer of another prominent activist, Xu Zhiyong, told Reuters he was notified by officials that his client's verdict would be on Sunday.
Mr Xu was arrested in July 2013 over "gathering crowds to disrupt public order" charges and went on trial on Wednesday
His lawyer, Zhang Qingfang, told AP this meant the case of Mr Xu was "decided even before the trial".
Xu Zhiyong is a prominent human rights lawyer who campaigned against corruption in China.