China executes man for rape and murder of 'sex slaves'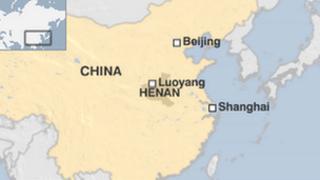 China has executed a man who kept six women as "sex slaves" and forced three of them to kill two of their fellow captives, state media report.
Li Hao, 36, from Henan province was sentenced to death in 2012 for charges that included murder, rape, organised prostitution and illegal detention.
He had built a dungeon at a basement where he held the women, until one escaped in 2011 and reported him.
Police said Li wanted to make money by forcing the women into prostitution.
The execution was reported by state-run Xinhua news agency and confirmed by court officials in Henan.
Li built the dungeon in Luoyang city in 2009. He kidnapped the women and held some of them for up to 21 months, previous reports said.
He repeatedly raped the women, aged between 16 to 23 at the time, and made them perform in pornographic web shows.
In addition, Li coerced three of the women to kill two of the other captives.
One woman received a jail term of three years and two others were put on probation for the murders, Xinhua news agency previously reported.
Li, who was married at the time of his arrest, worked as a local government clerk.