China media: 'No-war pledge' criticism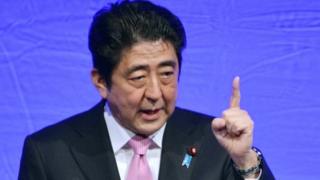 Chinese papers on Monday assess reports that a long-time "no-war pledge" has been removed from Japan's Liberal Democratic Party's (LDP) annual working policy paper.
According to recent reports, which have not been officially confirmed, the ruling LDP has removed the "never to wage war again" pledge from its policy document.
Observers in China say these changes suggest that Japan is moving "in a far-right direction".
"By removing the pledge, [Japanese PM] Shinzo Abe has revealed his true political ambition, which is to reinstall Japan with the right to wage wars," Gao Hong, researcher on Japanese studies at the Chinese Academy of Social Sciences, tells China Daily.
In an article republished in Xinhua News Agency, China National Radio lashes out at Mr Abe, saying the Japanese PM is "hypocritical" because "he had made a no-war pledge" during a visit to the Yasukuni Shrine - which honours Japan's war dead, including convicted war criminals - on 26 December last year, and now he is "slapping his own mouth".
Qu Xing, president of China Institute of International Studies, tells China News Service that whenever China hopes "to move forward" in Sino-Japanese relations, it is "dragged back" to the controversial issue of visits to the Yasukuni Shrine.
Mr Qu notes that Mr Abe's recent visits to the shrine reflect the government attitude towards war and history. Mr Abe's actions, as well as the increase in Japan's military might and the decrease in its transparency, are worrisome, he adds.
Elsewhere, state media downplay a recent anti-China protest march in Vietnam.
According to reports, around 100 anti-China protesters gathered in Hanoi on Sunday to mark the 40th anniversary of the Paracel Islands battle between China and South Vietnam.
Police broke up the protest but made no arrests, reports say.
Papers in China, however, say such protests are rare and ties between Beijing and Hanoi are improving.
Zhuang Guotu, dean of the Research School of South East Asian Studies at Xiamen University, tells the paper that Vietnam still hopes to keep territorial disputes with China under control because it needs to "co-operate" with Beijing for its growth.
Rural reforms
Turning to domestic news, Chinese authorities on Sunday issued their first policy document of 2014, stressing the importance of rural reforms and a national food security system, reports say.
The "number one document" is issued by the Central Committee of the Communist Party of China and the State Council every January, setting the country's policy priorities for the year. Since 2003, the document has focused on rural and agricultural issues in China.
"Taking good control of its own bowl is a fundamental principle the government must stick to over a long period of time," the document says.
Supporting the document, the People's Daily, in an editorial, says the new reform will ensure fair access to public resources and will benefit the farmers as they gain more rights to their assets.
However, some experts have raised concerns about the problems that farmers might face.
"A major obstacle for farmers in increasing their productivity is the difficulty of achieving large-scale, standardised production," Zhang Yuanhong, agricultural expert at Chinese Academy of Social Sciences, tells the Global Times.
"It's hard for farmers to obtain financing to support mass production due to the lack of governmental subsidies and agriculture-targeted commercial channels," Mr Zhang says.
And finally, papers say the withdrawal of rock singer Cui Jian from the Spring Festival Gala is "not surprising".
Cui, one of whose songs became an anthem of the 1989 Tiananmen Square protests, pulled out of a major show on state TV after organisers tried to censor his performance, reports say.
He had been due to play at China's Spring Festival Gala or Chunwan, which draws a TV audience of hundreds of millions.
The Global Times says the rebellious style of the rocker does not go well with the mainstream gala, so the "break-up" is not at all surprising.
"It is way more important that outside Chunwan, Cui can continue to have his stage and continue to play the role he wants to play. There are media reports about Cui's concerts, a new music film and preparation of a new album. Whether his role continues is the real touchstone of China's tolerance," the paper adds.
A commentary in the People's Daily points out that it is unnecessary to place too much emphasis on his withdrawal.
BBC Monitoring reports and analyses news from TV, radio, web and print media around the world. For more reports from BBC Monitoring, click here. You can follow BBC Monitoring on Twitter and Facebook.