China media: 'Naked officials'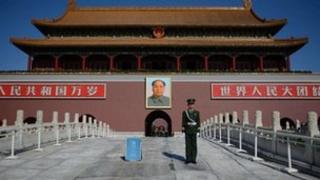 The issue of corruption in China is back in the media spotlight amid a ban on promoting "naked officials" and a probe against a top military general.
Many newspapers welcome revised rules issued on Wednesday by the ruling Communist Party to disqualify "naked officials", or officials whose spouses or children have emigrated overseas, from promotion.
Such officials have been widely seen as a high-risk group for corruption.
Besides disqualification from promotion, the China Youth Daily says "naked officials", especially their assets, should also be monitored closely.
A commentary in the Henan Business Daily goes further and calls for such officials to be removed from their posts.
In contrast, the Guangzhou Daily says there cannot be a "presumption of guilt concerning "naked officials".
"'Naked officials' cannot be directly equated with corrupt officials. After all, the children of officials have a legitimate right to seek studies and employment overseas," it stresses.
Meanwhile, many media outlets are discussing an expose by the Beijing-based business website Caixin on Tuesday about an alleged corruption investigation into a deputy military logistics chief, known in the international media as the "goldfinger general".
It is rare for the Chinese media to reveal details of corruption in the armed forces.
Caixin says former lieutenant-general Gu Junshan has been under investigation for corruption since early 2012 for allegedly buying dozens of properties from kickbacks in the sale of land owned by the military.
Military authorities are yet to make a public announcement about the allegations.
According to Caixin, a solid gold statue of communist republic founder Mao Zedong, a gold wash basin, a model boat made of gold and crates of expensive Maotai liquor were confiscated by military investigators from Mr Gu's villa in his ancestral home of Puyang in central Henan province back in January 2013.
The Beijing News on Thursday said the case bore the classic marks of "tuhao" or "boorish rich" taste as Mr Gu's mansion was apparently modelled on the Forbidden City, with staff from Beijing's former imperial palace employed to help with the design.
The Changjiang Daily is astounded at why local authorities and local residents "turned a blind eye" to the villas built by Mr Gu's family as well as his own mansion, which was dubbed the "General's Residence".
"The 'General's Residence' and the villas were opulent to the extreme, and anyone with eyes would have seen at a glance that their non-compliance with relevant laws was obviously a form of corruption," it says.
The Global Times recalls that Mr Gu's immediate predecessor in the same office, Wang Shouye, was handed a suspended death penalty in 2006 for taking tens of millions of yuan in bribes.
"These two major cases are not only an alarm for the building of the armed forces, they are also an alarm for this entire country of ours. We recommend that the Gu Junshan case not only be investigated rigorously, but that society be thoroughly informed of the circumstances of the investigation and prosecution," the editorial says.
Internet population
Meanwhile, mainland China's internet user population, the world's largest, grew to 618 million by the end of 2013, while weibo or microblog users dropped for the first time to 9% last year, Xinhua news agency reports.
In a six-monthly internet report released on Thursday, the China Internet Network Information Centre (CNNIC) says more mainland internet users are switching from weibo and social media websites to WeChat, a mobile phone instant-messaging service.
Analysts tell Hong Kong's South China Morning Post that the drop in weibo and traditional social media users is due to an ongoing government crackdown on online "rumour-mongers".
Last September, mainland judicial authorities issued a new interpretation that internet users would face criminal prosecution for false online posts that were viewed more than 5,000 times or forwarded more than 500 times.
Since then, a number of internet users, including several celebrity bloggers, have run afoul of the authorities for their public comments on weibo, online chat rooms and other social media websites.
"People are moving to WeChat, which allows people to communicate with only their close friends and they can speak openly.... Why would people want to continue being careful about their words on a tool meant to disseminate information?" Wang Chengjun, a web researcher at the City University of Hong Kong, tells the Post.
BBC Monitoring reports and analyses news from TV, radio, web and print media around the world. For more reports from BBC Monitoring, click here. You can follow BBC Monitoring on Twitter and Facebook.