China media: Military strength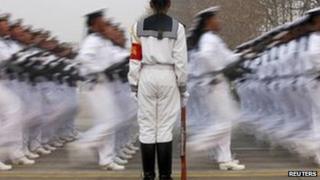 Chinese media play down "fears" over Beijing's growing military capabilities, amid reports of a test-flight of a hypersonic missile delivery vehicle.
US media reports recently suggested that the Chinese military concluded the first test-flight of such a vehicle on 9 January.
In a statement, China's Defence Ministry said: "It's normal to conduct scientific research tests within the Chinese territory according to the plan, and it does not target any specific countries or objectives."
Analysts tell the China Daily that US media are playing up China's military capabilities and this shows a lack of mutual strategic understanding between Beijing and Washington.
"Washington is afraid that China's growing power will reduce its influence in the region, and threaten the interests of its allies such as Japan and the Philippines..." Fan Jishe, an expert on US studies at the Chinese Academy of Social Sciences, tells the paper.
Li Qingkong, deputy secretary-general of the China Council for National Security Policy Studies, says that "there is no need for the US or any other country to worry about the development of the Chinese military, given that China's military expenditure is much lower than that of the US".
State-owned China News Service says "foreign media is making use of the opportunity to play up China's threat".
Military expert Yin Zhuo tells the news service that the US has far greater missile capability than China but does not want others to "join in the club".
Meanwhile, government authorities have ordered private luxury clubs running in municipal parks to shut down. The Beijing Times defends the latest anti-corruption drive.
"The closure of private clubs is not in interference with micro-economic activities, but to return the parks to their original function…to serve the public and to block officials from using the parks for their corrupted activities," it says.
Backing the move, law professor Qin Qianhong tells the China Daily that "Beijing's move reflects the authorities' determination to fight graft, as they have noticed that some corruption activities take place in private clubs".
Visa woes
Moving to other news, Chinese travellers have complained that "only undeveloped countries sign visa-free deals with China", reports the Beijing Youth Daily Daily.
Many Chinese tourists want to visit foreign countries during the ongoing Spring Festival holidays but face difficulties due to lengthy visa systems at some embassies, it adds.
In response, Chinese foreign ministry official Huang Ping tells the paper that certain countries are prejudiced against Chinese citizens and do not welcome them.
He adds that more time is needed to achieve visa-free status for Chinese tourists from other countries.
According to the South China Morning Post, currently there are 20 countries which grant Chinese passport-holders visa-free entries, with Bahamas and Thailand expected to be added to the list soon.
Zhang Hong, editor of People's Daily Overseas Edition, writes that complaints about the "low value of Chinese passports" could be seen as a lack of recognition of China's rise from the rest of the world.
Echoing similar sentiments, the Global Times says the visa policy of many countries towards China is hurting the dignity of the citizens.
The paper suggests that Western countries refuse visa-free service to Chinese nationals to avoid illegal immigration.
"Getting visa-free treatment from developed countries is not an easy job, but it is still possible. China is now at the critical moment when many breakthroughs are waiting to be made," says the paper.
BBC Monitoring reports and analyses news from TV, radio, web and print media around the world. For more reports from BBC Monitoring, click here. You can follow BBC Monitoring on Twitter and Facebook.