Farmers in Sichuan's Jianshe village build 'money wall'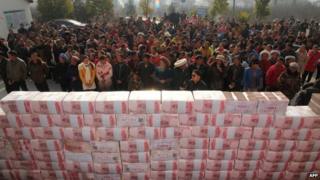 Villagers in China have built a wall of banknotes worth 13 million yuan ($2.1m: £1.3m) after a massive payout in annual bonuses from their rural co-operative.
The money was delivered in baskets to Jianshe village in south-west Sichuan province by military officials.
The notes were stacked to form a seven-foot (2m) wall and were heavily guarded before being distributed to villagers in time for the Chinese New Year.
There was so much money it took two days to hand all of it out.
Villager Yang Huai, who received 200,000 yuan, said it had been a village custom since 2010 to distribute dividends in cash.
Jianshe runs a lucrative farming co-operative with investments in small-scale hydropower plants.
The co-operative counts 340 out of 438 households as shareholders, but villagers who are not directly involved in operations are also guaranteed a share of the profit.
While it was not immediately clear whether the dividends were unusually high, official figures show that the average net income of China's rural residents stood at 7,917 yuan in 2012, reported the AFP news agency.
Jianshe's luckiest villagers were estimated to have scooped around 300,000 yuan, about 38 times as much as that. Many others received far less.
'Too hard to sleep on'
Many villagers seemed excited to see baskets of money arrive on Monday, with some stepping forward to pose next to the wall for pictures.
Several residents even took to sleeping on the notes in an attempt to guard them from thieves before they began to be distributed the next day.
One guard said he had been too worried to fall asleep.
"We used eight million yuan as a mattress and 4.2 million yuan for pillows," said Jin Hongzhong.
"It was not comfortable sleeping on top of so much money. It was too hard."
Jin Ou, another villager who received 300,000 yuan, complained: "It took me so long to count the money that I almost lost strength and feeling in my hands."
Many others would have jumped at the chance.
The news from Jianshe has drawn fury among Chinese internet users, with many calling it a "tyrant village".
Some netizens even drew comparisons with Mao Zedong's rural revolution.
"This almost seems like an incentive to encourage one to go rural, as though it is embodying one of Mao's rural economic models," said FengYiCaoMing.
"Socialism is back!" said YiMeng Wang, another microblogger.
Weibo user 2009TheGoodLife said: "It seems rural cities now have more money. It makes me want to be a farmer too."