China media: Tibetan blaze probe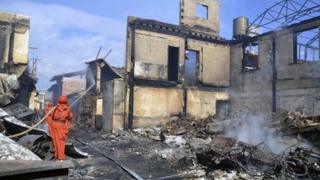 Conflicting investigations into a Tibetan town fire, Spring Festival travel woes and a reply to a UK paper's bugging allegations are key stories in Wednesday's papers.
Newspapers brush aside a "bust-up" reported by the Beijing Times between local authorities over the causes of a fire on Saturday which destroyed most of the ancient Tibetan town of Dukezong in south-west Yunnan province.
On Monday, the Shangri-la county government told a news briefing that a guesthouse operator setting her window curtains alight in an electrical accident was the initial cause of the fire, the Beijing Times said.
But four hours later, the deputy police chief of Deqen prefecture, which governs Shangri-la, held an emergency press conference to say the cause of the fire was still under investigation. The police official did not endorse the county government's findings.
The China Youth Daily says the dispute over the causes of the fire should be welcomed as a sign that local authorities were not "shielding each other from blame".
The newspaper instead questions why local authorities had not taken heed of warnings back in 2012 that overdevelopment had made Dukezong ill-equipped to tackle fire.
"Determining the direct cause of the fire is no doubt important, but that was just a fuse. An investigation into the cause of fire should not turn into an excuse to look for evidence to shirk responsibility," adds the Beijing Times.
UK allegations
In international news, Chinese experts have hit back at a recent report by the UK's Sunday Mirror newspaper that British government departments have allegedly stopped using video conferencing equipment made by Chinese firm Huawei amid fears devices are being used by the Chinese government to eavesdrop.
The UK government has not made an official response to the newspaper report.
Huawei, founded by a former People's Liberation Army official Ren Zhengfei, has issued a press statement calling the Mirror's allegations misleading and unsubstantiated, state media say.
The US and Australia have already banned Huawei from bidding for sensitive infrastructure contracts.
"Huawei has been shut out of the US market for the same reason, but from the Edward Snowden case, we see that the US government, which doesn't use Huawei's products, was monitoring their own citizens, foreign diplomats and other countries' officials," Xiang Ligang, a Beijing-based telecom expert, tells the China Daily.
A spokesman for China's textile industry figures is querying a report released by Greenpeace East Asia on Tuesday claiming that toxic chemicals have been found in children's clothes and shoes made by major brands.
Wang Zhuo, head of the China National Garment Association, tells the Global Times that the samples tested are too small to reflect the overall state of the industry in China.
Like every previous year, public frustration has flared up again over transport arrangements and a lack of railway tickets ahead of the Chinese New Year or Spring Festival holiday.
The government is forecasting 3.6 billion passenger journeys, an increase of 200 million from last year, during the 40-day holiday travel rush, known as chunyun or spring transport, which runs from Thursday until 24 February. It is the biggest annual human mass migration on Earth.
China's railway system, the world's busiest, announced on Tuesday that it had given up on setting a deadline to end ticketing problems. In recent days, its website and newly launched mobile phone app for ticketing have suffered frequent crashes and failed to stop scalpers hoarding tickets.
"Why can't it [railway sector] allow passengers to purchase tickets at other sites, as is the case with air tickets?" Ma Guangyuan, a Beijing-based economist, tells the Global Times.
Meanwhile, the Guizhou Metropolis Daily is accusing the railway sector of "exploiting a monopoly to maximise profits" after it announced on Tuesday that railway tickets for sitting and standing passengers will be the same price.
Another chunyun controversy surrounds north-east Heilongjiang province being forced to backpedal on its earlier announcement that highway toll fees would be waived from New Year's Eve on 30 January, which is not part of the official holidays.
The Beijing News says other regions refused to bow to public pressure to follow Heilongjiang's example and will only allow toll-free journeys from New Year's Day at midnight on 31 January.
According to various online surveys, including on People's Net, the vast majority of netizens support free highways for all provinces on New Year's Eve.
BBC Monitoring reports and analyses news from TV, radio, web and print media around the world. For more reports from BBC Monitoring, click here. You can follow BBC Monitoring on Twitter and Facebook.