China media: Tibetan town blaze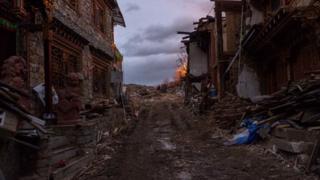 The media are dismayed over lax safety standards in the wake of a fire at an ancient Tibetan town.
Fire destroyed more than 70% of the 1,300-year-old Dukezong town in the tourist resort county of Shangri-La in southwest Yunnan province on Saturday.
No injuries were reported after the fire that raged for nearly 10 hours, but more than 2,600 people lost their homes in the blaze and were evacuated.
Li Gang, the director of cultural heritage management in the county, tells the People's Daily that planners had done away with traditional fire safety precautions in the layout of the town by squeezing in more buildings for commercial profit.
The narrow streets made it difficult for fire engines to enter and also allowed the blaze to spread more quickly.
Hong Kong's South China Morning Post says some residents are blaming the fire services for failing to put out the blaze more quickly.
The Beijing Youth Daily is incredulous that fire hydrants were empty and had to be filled with water.
The water pipes, which had been built above ground, were not stored with water to prevent them from freezing and breaking. The town had only one water tank that soon ran empty as well.
The Guangzhou Daily and China Business News say over-development and a lack of concern for cultural heritage protection are putting many tourist attractions like Dukezong at risk of environmental degradation or man-made disasters.
The Beijing News accuses local fire services and authorities of "trusting things to luck" after not adopting recommended safety measures, such as building firewalls and maintaining an adequate water supply for fire-fighting.
The newspaper also recalls how petrochemical companies and local governments were equally aware of the safety risks of underground oil and gas pipelines in the eastern city of Qingdao but ignored warnings.
Such lax safety standards caused a pipeline blast in the eastern city of Qingdao, which killed 62 people and injured another 136 on 22 November, according to a full investigation report released on Saturday by the government's work safety watchdog.
'Fake' police officers
In other news the daughter of a late Communist Party veteran general, Song Renqiong, has come forward to apologise for failing to intervene to protect her high school headmistress from being killed by fellow students during the Cultural Revolution (1966-1976).
Song Binbin, 64, and some of her former classmates from a high school attached to Beijing Normal University on Sunday expressed remorse to their teachers, The Beijing News reports.
They bowed in front of a statue of Bian Zhongyun, the party secretary of the school, who was beaten to death by students.
"I hope that all those who did wrong things and harmed teachers and fellow students during the Cultural Revolution can face themselves, reflect on the Cultural Revolution, seek forgiveness and attain reconciliation," Song Binbin told The Beijing News.
Elsewhere, The Beijing News questions why the police and authorities failed to successfully investigate the case of a Good Samaritan who apparently committed suicide to protest his innocence.
A row broke out between Wu Weiqing, a factory worker in Dongyuan county in Guangdong province, who said he had seen an elderly man, Zhou Huoqian, fall down on a road on 31 December.
Mr Zhou had insisted that Wu's motorbike had hit him and demanded compensation of 200,000 yuan ($33,000, £20,000). Despite the argument, Mr Wu took Mr Zhou to a medical clinic.
There was widespread shock after Mr Wu was found drowned in a pond on 2 January.
However, Zhou Huoqian confessed on Sunday that he had fallen down on his own because he wanted Mr Wu to pay for his medical treatment.
Similar cases over the years have made people wary about helping strangers in need.
And finally, the Beijing Times exposes the bizarre case of a district government official in Changsha, in central Hunan province, allegedly employing over 200 students as "fake" uniformed truncheon-wielding police officers to raid and vandalise the office of a company on 29 November last year.
The newspaper says the company and the Tianxin district government have slapped lawsuits on each other over a dispute involving the construction of a cultural industrial park.
A security guard at the company tells the newspaper that the "officers" allegedly destroyed office furniture and looted all artwork at the behest of the official.
BBC Monitoring reports and analyses news from TV, radio, web and print media around the world. For more reports from BBC Monitoring, click here. You can follow BBC Monitoring on Twitter and Facebook.