China media: Zhang Yimou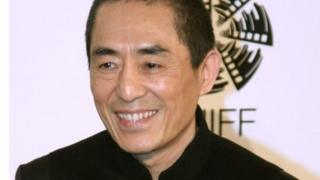 Chinese media report mixed public reaction to film director Zhang Yimou's fine for violating China's one-child policy.
Zhang and his wife have been handed the biggest-ever fine levied on a couple for violating the family planning policy, but netizens are divided on whether the fine is too heavy or too lenient.
On Thursday, family planning authorities in Binhu district of the city of Wuxi in east China's Jiangsu Province asked the couple to pay a "social maintenance fee" of 7.48m yuan (£730,000; $1.23m) within 30 days.
Zhang can apply for an administrative appeal within 60 days or appeal to a local court in three months against the decision, family planning authorities say.
Various online polls on Sohu, Sina and other news portals show that a slight majority of internet users believe that Zhang's punishment is too heavy. However, around 20-30% of netizens on these sites believe the fine was too lenient.
Hong Kong's Ming Pao also notes that mainland netizens have expressed sympathy for the couple.
"Shameless family planning policy!' Having to pay money for wanting to have two children, isn't this tragic!?" it quotes "Lightning Bolt Man" from Wuhan as saying.
The newspaper says many netizens are also accusing authorities of failing to take action sooner because Zhang is a celebrity.
"This has been going on for many years. Today, it took the public to dig up old records for you all to start taking action. Corrupt officials!" says an internet user called "Jimeixuan" from Beijing.
'Shouting match'
In other news, an ongoing international public relations war between Tokyo and Beijing continues to brew with both countries' ambassadors now having to be interviewed separately to avoid a shouting match between the two.
On Wednesday, the BBC's Newsnight programme interviewed Chinese Ambassador to the UK Liu Xiaoming separately from his Japanese counterpart in the UK, Keiichi Hayashi, over various spats between the two countries, including over islands known as Diaoyu in China and Senkaku in Japan.
The state-run Voice of China says the two ambassadors did not exchange a word with each other in the studio.
"It is fair to say this was an unusual way for the programme to conduct an interview... The ambassadors agreed to appear only separately, which [presenter] Jeremy Paxman made clear at the start of the interviews," a BBC spokesman told Hong Kong's South China Morning Post.
"Keiichi Hayashi was evasive and contradictory. In stark contrast, Ambassador Liu Xiaoming argued his case strongly and based on facts, and kept firmly stating China's standpoint," says the Voice of China.
Ambassadors Liu and Hayashi recently traded barbs in The Daily Telegraph, a UK newspaper, likening "militarism" in each other's country to Lord Voldemort, a villain in the children's series Harry Potter.
And in the People's Daily on Friday, Ambassador Liu again compares "militarism" to Lord Voldemort haunting Japan.
Meanwhile, the South China Morning Post says authorities in the southern island province of Hainan have been quietly demanding that all foreign fishing vessels seek approval to operate in disputed waters of the South China Sea since 1 January.
And finally, there are unconfirmed reports in the Oriental Daily News and other Hong Kong newspapers about Zhou Bin, elder son of retired senior leader Zhou Yongkang, being detained.
The South China Morning Post says Zhou Yongkang, who used to be in charge of the country's security apparatus, is also reportedly under virtual house arrest and facing a corruption investigation.
The Chinese government has neither confirmed nor refuted the allegations surrounding the Zhou family.
BBC Monitoring reports and analyses news from TV, radio, web and print media around the world. For more reports from BBC Monitoring, click here. You can follow BBC Monitoring on Twitter and Facebook.