China media: Professor's crawl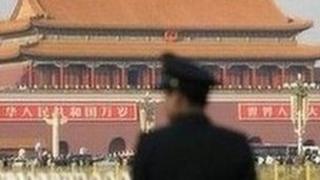 Calls for officials to publically disclose assets are back in the spotlight after a professor crawled on the ground for losing a bet on such reforms being introduced last year.
Many newspapers in China have been moved by photos posted online of Hangzhou Normal University Professor Fan Zhongxin crawling 1km (0.65 miles) in freezing conditions around the West Lake in the eastern city of Hangzhou on New Year's Day.
On 1 January 2013, Mr Fan had bet on his microblog that China would require officials nationwide to publically declare their assets last year. He promised to crawl for 1km if he lost his wager.
The Global Times had earlier reported that the ruling Communist Party would launch a pilot scheme to make officials disclose their spouse's and children's employment status, assets and international travel records.
However, the newspaper added that the party has not given any details about how to enforce the pilot disclosure system and the timetable for enforcement.
Some cities in east China have been selected to pilot the asset disclosure system, but progress has been slow in rolling out the system nationwide.
Mr Fan feels he lost the bet and punished himself by living up to his promise, the Beijing Youth Daily reported on Monday.
His wife took photos of him crawling along the lake with his pet dog for two hours. He says he ended the ordeal with bleeding palms and knees.
When questioned by passers-by, Mr Fan explained that he was doing "spinal exercises".
"None of us are bystanders in terms of Fan Zhongxin's crawl. Other intellectuals on microblogs, ordinary people and even officials can learn from Fan Zhongxin's stance on fulfilling pledges," says the Zhengzhou Evening News.
Some official media and internet users are dismissing the crawl as self-humiliation and "performance art".
"Reformers must never engage in grandstanding and engage populist politics," says the editor of the Global Times.
However, the Southern Metropolis Daily and The Beijing News say Mr Fan has not disgraced himself as a scholar.
The Henan Business Daily and Changsha Evening News also refrain from rebuking Mr Fan but insist that he was "blindly optimistic" in expecting the asset disclosure system to overcome entrenched resistance quickly.
"The public have had hopes for too long in public servants declaring assets and an urgent task now is to take effective action, so that the people are not disappointed and so that such 'performance art' of placing bets can be eliminated," says the China Youth Daily.
Last year, China arrested or jailed various activists for making similar calls for officials to disclose their assets, including Beijing university lecturer Xu Zhiyong, who remains in detention.
'Asia's Voldemort'
Turning to international news, official media continue to lambast Japanese Prime Minister Shinzo Abe for paying a visit on the anniversary of his first year in office on 26 December to Yasukuni, a shrine that honours Japan's 2.5 million war dead, including some convicted war criminals.
Xinhua News Agency accuses Mr Abe of "idiot ravings" and "rehashing an old tune" after he stated at a press conference on Monday that he hopes for meetings with the leaders of China and South Korea to explain the intent of his visits to Yasukuni.
According to Xinhua, Mr Abe's wife recently revealed to the Japanese media that her husband has been drinking brandy to ease stress-induced insomnia.
The People's Daily Overseas Edition offers "persona non grata" Mr Abe a "prescription": Contrition for Japan's "external aggression" against Asian neighbours.
Meanwhile, the Global Times hits back at the Japanese ambassador to the UK over a piece in The Daily Telegraph, a British newspaper, for warning that China risks becoming "Asia's Voldemort".
Voldemort is a villainous wizard in British author JK Rowling's popular children's series Harry Potter.
Keiichi Hayashi was refuting an earlier article in the Daily Telegraph by the Chinese ambassador to the UK who said militarism was haunting Japan like Voldemort.
In Hong Kong, newsroom staff at the Ming Pao have issued a statement to express shock and demand an explanation from management on why the newspaper's chief editor is being replaced by a Malaysian journalist.
A Ming Pao source tells the South China Morning Post that staff are worried that a reshuffle may be looming and that editorial independence will be compromised.
Hong Kong's Apple Daily believes that a Communist Party-orchestrated "red infection" is sweeping through the ranks of the Hong Kong press, including the Hong Kong Economic Journal and South China Morning Post.
Meanwhile, mainland state media are prominently reporting an expose on Monday in the Ta Kung Pao, a Beijing-backed Hong Kong daily, on alleged meddling by Taiwanese military intelligence in Hong Kong's pro-democracy movement.
BBC Monitoring reports and analyses news from TV, radio, web and print media around the world. For more reports from BBC Monitoring, click here. You can follow BBC Monitoring on Twitter and Facebook.