China media: Calls to pardon Snowden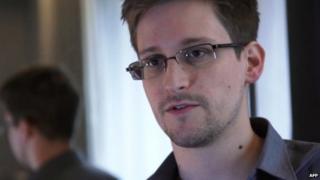 Support for pardoning US whistle-blower Edward Snowden and controversy over a new ban on dialects on radio and TV are major themes in Monday's papers.
The state-run English-language China Daily is backing calls by newspapers in the US and Britain, including The Guardian, on Thursday for the US government to pardon former US National Security Agency contractor Edward Snowden for leaking intelligence on global surveillance operations.
"Showing leniency to Snowden is only the first step Washington should take. The US still owes the world, its own citizens included, an honest account of its notorious spying programmes and a solemn pledge that it will increase transparency," it says.
"He [Snowden] is seen by many people as having rendered a service to his nation - a patriot, in fact. This newspaper for one would welcome a presidential pardon for him," adds Hong Kong's South China Morning Post.
The China News Service says the US government will pay for repairs to the main entrance of the Chinese consulate in San Francisco after an arson attack on New Year's Day.
An unnamed suspect has also been arrested in connection with the attack, according to the US Bureau of Diplomatic Security.
In other international news, the People's Daily Overseas Edition and other official media are continuing to lobby foreign countries in an ongoing public relations campaign against Japanese Prime Minister Shinzo Abe and other politicians after they recently paid their respects at Yasukuni, a shrine that honours Japan's 2.5 million war dead, including some convicted war criminals.
Child labour
Turning to domestic news, an outcry over an alleged case of child labour at a factory has prompted The Beijing News and other newspapers to call on authorities to ensure that children in remote rural areas receive compulsory education and adequate poverty relief.
The state-run Voice of China radio previously reported that child workers, mostly girls aged around 10, were working 12 hours a day at an electronics factory in southern Shenzhen, with a fixed monthly salary of only 2,000 yuan ($330, £200).
The children were from Liangshan, an autonomous prefecture that is home to an ethnic Yi population in south-west Sichuan province.
"There is rice and meat to eat here. We can only eat potatoes and corn at home. I do not want to go home," one child told the Voice of China before returning home.
Liangshan has been receiving poverty relief since 1986. However, in 2012, the Legal Daily reported that poor people in the county were selling their children in the black market.
And last year, the media revealed that many primary school pupils in Liangshan had no shoes to wear.
Meanwhile, the Hunan Broadcasting System is reporting mixed public reaction to a recently introduced ban on television and radio presenters using any dialects, internet slang or foreign languages in programmes, except in special circumstances.
The State General Administration of Press, Publication, Radio, Film and Television, China's media regulator, says presenters must speak Putonghua (also known as Mandarin) and should also guide their guests to use Mandarin. The notice says TV programmes that do not follow the notice will be banned.
The ban will not apply to programmes that are broadcast in the languages of non-Han ethnic minorities, but is expected to target Han languages such as Shanghainese, Hunanese and Cantonese.
The Global Times says a survey conducted by Sina news portal on Sunday showed that over 66% of 11,151 respondents voted against the administration's move, with many saying that the move "showed little respect" toward China's diverse Han cultures.
Hong Kong's Sing Pao also notes mostly hostile reaction from internet users.
"In an age of the onslaught of Putonghua, we have already lost a lot of interesting dialects. With these further regulations, perhaps dialects will not only no longer exist in radio and television programmes and they may even become unfamiliar in our native hometowns," says one netizen.
"Cantonese has become a stumbling block hindering the unification of Chinese languages and a discordant note affecting China's progress and development!" says another user.
The China Daily notes that despite the government's effort to promote Mandarin at home and abroad, about 30% of the population in China, or 400 million people, cannot speak it, and a large number of people do not speak Mandarin well.
BBC Monitoring reports and analyses news from TV, radio, web and print media around the world. For more reports from BBC Monitoring, click here. You can follow BBC Monitoring on Twitter and Facebook.