China media: US criticised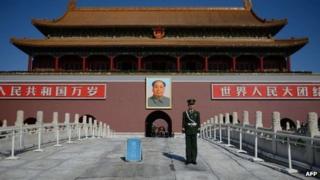 State media criticise the US for having "double standards" on terrorism and failing to ensure the safety of Chinese diplomats.
A commentary in Global Times criticises Washington's decision to send the last three ethnic Uighur detainees at the Guantanamo Bay military prison in Cuba to Slovakia, instead of extraditing them to China.
The commentary also accuses the US State Department of "double standards" in condemning suicide bombings in the Russian city of Volgograd on Sunday and Monday as a terrorist attack.
It notes that State Department deputy spokeswoman, Marie Harf, called for Chinese security forces to exercise restraint after a shoot-out at a police station in China's Xinjiang region on Monday, without condemning the case.
State media had earlier reported that police shot dead eight people and arrested a ninth in a "violent terrorist attack" on a police station in Yarkand county in Xinjiang, which is home to the Uighurs, a mainly Muslim ethnic minority.
Although the media did not give details on the ethnicity of the alleged assailants, an exiled Uighur activist group, the World Uyghur Congress, says police opened fire on peaceful protestors.
An editorial in the paper criticises US authorities for failing to ensure the safety of Chinese diplomats after the entrance of its consulate in San Francisco was destroyed by a possible arson attack on 1 January.
A statement on the consulate's website said someone emerged out a minivan parked in front of the consulate and threw two buckets of petrol at the building's front gate and set it alight at around 21:00 local time.
The fire was soon extinguished and no casualties were reported.
"What baffles us is why Chinese embassies and consulates are attacked so easily in the US and why the US' powerful security forces drop away from Chinese embassies and consulates at critical moments," the newspaper says.
In other international news, the Global Times also says China's "international media war" against Japan is well under way after its ambassador to Britain penned an article in the UK's Daily Telegraph, comparing the Japanese prime minister's "ghost worship" at a controversial war dead shrine to Lord Voldemort, a villainous wizard in JK Rowling's Harry Potter series.
Prime Minister Shinzo Abe said his visit to Yasukuni last Thursday was a message of peace, but China sees the shrine as a reminder of Japan's wartime aggression because it also includes 14 convicted war criminals from World War II.
Pollution woes
Turning to domestic news, the China Youth Daily and The Beijing News are calling for a more open and transparent system for allocating railway trains for coal freight so as to prevent firms bribing officials.
A shortage of trains has led to firms bribing railway officials to ensure transport for coal and other goods.
Their calls come in the wake of Ma Junfei, a former deputy head of the Hohhot railway bureau in the Inner Mongolia Autonomous Region, receiving a two-year suspended death sentence last Thursday for allegedly taking bribes of more than 130m yuan (£13m; $21.48m) from mining or electric power companies.
"In order to get more transport capacity, various freight companies vied with each other to send boxes of cash and US dollars to the hands of corrupt officials," notes Beijing Youth Daily commentator Fan Dayu.
In recent years, the railway industry has been plagued by corruption scandals. In 2013, former minister of railways, Liu Zhijun, was given a suspended death penalty on suspicion of corruption and abuse of power.
Despite efforts to tackle pollution over the last year, The Beijing News says the capital was hit by chronic air pollution an average of one day a week in 2013, according to a local environmental protection bureau.
Meanwhile, the People's Daily says scientists have challenged a report by the state-run Chinese Academy of Sciences stating that motor vehicle emissions only accounted for less than 4% of PM2.5 health-threatening air particles in Beijing.
However, the China Daily says the think-tank later contradicted that report by saying that automobile emissions were still a major source of PM2.5 in Beijing, accounting for 22.2% of PM2.5.
BBC Monitoring reports and analyses news from TV, radio, web and print media around the world. For more reports from BBC Monitoring, click here. You can follow BBC Monitoring on Twitter and Facebook.