China poll fraud: top official Tong Mingqian sacked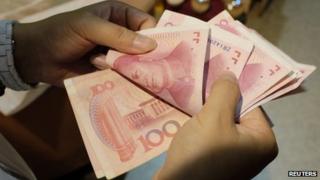 A senior Chinese official has been sacked in relation to a major electoral fraud scandal, the Communist Party's discipline watchdog said.
Tong Mingqian, a Hunan official, was negligent and failed to handle the cases of bribery, the watchdog said.
More than 500 lawmakers in Hunan resigned last week after it emerged they had accepted bribes to elect provincial parliament members.
President Xi Jinping has vowed to fight corruption in the Communist Party.
Tong Mingqian was party chief of Hengyang City in Hunan when the provincial elections took place. At the time of his dismissal, he was deputy head of Hunan's parliamentary advisory body.
Mr Tong "did not properly carry out his duties, and did not take timely and effective measures to investigate and handle cases of bribery exposed before and after the election", the watchdog said in a statement.
This led to "serious cases of bribery" that "inflicted significant damage to the interests of the party, country and the people", it added.
Investigations had revealed that 56 members of the Hunan People's Congress, the provincial parliament that rubber-stamps decisions, bribed lawmakers in Hengyang to elect them to their posts, state media reported earlier.
Municipal officials have the power to appoint representatives to the local People's Congress.
The 512 Hengyang officials, as well as the 56 provincial assembly members, all resigned or were dismissed, state media said.
Separately, a top political adviser and former aide to China's ex-security chief Zhou Yongkang was removed from his post for suspected corruption on Thursday, state media said.
Li Chongxi was chair of Sichuan province's Chinese People's Political Consultative Conference.
For months, there have been rumours and reports that Mr Zhou, one of China's top former leaders, is also being investigated for corruption, correspondents say.
Xi Jinping has warned that corruption could topple the Communist Party, and launched an anti-corruption campaign he said would target both "tigers and flies" - high and low-ranking officials in the government.