China media: Shinzo Abe speech criticised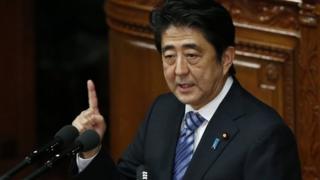 China's official media are condemning Japanese Prime Minister Shinzo Abe for his New Year speech and saying he should learn from Germany's remorse for World War II.
In his New Year's message, Mr Abe predicted that Japan's post-World War II pacifist constitution, which limits Japan's military to self-defence, could be amended by 2020 when Tokyo hosts the Summer Olympics.
"Mr Abe's speech was full of murderous intent and openly challenged the peace and order of the world," says the Liberation Army Daily.
The media are also angry at Yoshitaka Shindo, Japanese Minister of Internal Affairs and Communications, for paying a New Year's Day visit to Yasukuni, a shrine in Tokyo that honours Japan's war dead, including some convicted war criminals.
Mr Shindo says that the visit was a personal one and he was renewing a wish for peace. He said it was his sixth visit to the shrine since Mr Abe assumed office a little over a year ago.
Last Thursday, Mr Abe's visit to Yasukuni on the anniversary of his first year in office also triggered similar media condemnation in China.
"Mr Abe's conspicuous lack of historical honesty contrasts shamefully with the courage and vision of late West German Chancellor Willy Brandt... The moment Brandt knelt down, his nation stood up," Xinhua news agency said in a New Year's Day commentary.
The agency praises Mr Brandt for falling to his knees before a monument in Poland to commemorate the Jewish victims of the 1943 Warsaw Ghetto uprising in 1970.
"The confrontation between China and Japan will be a long-lasting event. China does not only have to triumph over it, but also prove to the world that China follows its own promise as a peaceful rising power," says the Global Times.
Over in Hong Kong, Apple Daily and Ming Pao are calling for the governments of Beijing and Hong Kong to heed the results of an unofficial New Year's "civil referendum" on the process for electing the city's chief executive in 2017.
The newspapers note a lower turnout than before for the city's New Year's Day pro-democracy march, but highlight how tens of thousands of Hong Kong people voted overwhelmingly in the "civil referendum" in favour of more public involvement in the 2017 chief executive election.
Currently, Hong Kong's leader is elected by a committee of only 1,200 members.
Hunger strike
Meanwhile, Global Times and pro-Beijing Hong Kong newspapers Ta Kung Pao and Wen Wei Po are welcoming the arrest of several activists who carried a Hong Kong colonial-era flag into a People's Liberation Army (PLA) barracks in the city's Central district last Thursday.
"This type of separatist behaviour will only make the central authorities tighten defences to the detriment of Hong Kong's democratic development," adds Hong Kong's Sing Tao Daily.
Elsewhere, reporters working for Guangzhou's Nanfang Media, which publishes the Southern Weekend newspaper, are waging an online campaign on behalf of a civil rights activist who is facing trial for supporting their strike one year ago, Hong Kong's South China Morning Post reports.
Hong Kong's Ming Pao says Yang Maodong, who is also known by his pen name Guo Feixiong, has been on hunger strike ahead of his trial.
Mr Yang was detained for joining protests by Southern Weekend staff last year after censors swapped the newspaper's New Year editorial calling for political reform and respect for the country's constitution to a tribute to the Communist Party.
And finally, The Beijing News says penal labour camps in the capital were decommissioned and their inmates released on New Year's Day.
The move follows the legislature's vote on Saturday to abolish the "re-education through labour" system that has allowed police to jail people for up to four years without due process.
BBC Monitoring reports and analyses news from TV, radio, web and print media around the world. For more reports from BBC Monitoring, click here. You can follow BBC Monitoring on Twitter and Facebook.