China media: Corruption in focus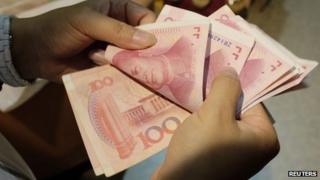 Media in China are focusing on more high-profile corruption cases, an enforced cremation and director Zhang Yimou's apology for violating the one-child policy.
Media in Hong Kong are abuzz with speculation over a corruption investigation into a top political adviser in southwest Sichuan province, who was once an aide to the ruling Communist Party's ex-security chief Zhou Yongkang.
Li Chongxi is the third high-ranking official in Sichuan to be under investigation for alleged corruption this year after Guo Yongxiang, a former deputy Sichuan governor, and Li Chuncheng, a former deputy party secretary, also faced probes.
However, Hong Kong's Oriental Daily News and South China Morning Post are citing unconfirmed reports that the corruption probe into Mr Li and the other Sichuan officials may be part of a widening investigation into the Communist Party's former security chief Zhou Yongkang and his supporters.
According to unconfirmed tip-offs cited by Hong Kong's Apple Daily and Reuters news agency, Mr Zhou is virtually under house arrest.
He once served as the province's party chief and was the top official in charge of China's oil industry before taking over the country's police and security organs.
However, neither the mainland media nor the Chinese government has commented on the allegations surrounding Mr Zhou.
In other news, the official media, including People's Daily and Global Times, are hailing a crackdown netting more than 500 lawmakers in Hengyang, central Hunan province, for alleged electoral fraud as a major victory for the central authorities' battle against corruption.
More than 500 lawmakers were disqualified, dismissed or resigned for allegedly taking bribes worth around 110m yuan (£11m; $18.12m), according to a statement issued by the Hunan provincial people's congress on Saturday.
No smoking
Meanwhile, the Legal Daily, Guangzhou Daily and other mainland media are up in arms after China's national audit office reported on Saturday that over 21.5m yuan (£2.14m; $3.54m) of poverty relief funds were misused in 19 counties.
Some of the counties appropriated the funds for dining, gift giving and travelling.
The Communist Party has also issued a circular ordering random checks on the declarations submitted by officials on their assets and their family members' earnings, the Southern Metropolis Daily reports.
Xinhua news agency says officials are also under orders to set an example by not smoking in public places.
The agency and other official media are calling on officials to learn from President Xi Jinping's frugal example after he queued up to buy his lunch at the Beijing branch of the Qingfeng Steamed Stuffed Bun Shop on Saturday.
Mr Xi, who appeared to be dining alone, paid 21 yuan (£2; $3.45) out of his own pocket for a meal of six steamed pork and leek buns, mustard greens and pig liver stew, The Beijing News says.
Photos of Mr Xi enjoying his lunch and chatting to stunned diners went viral on the internet.
The Beijing Morning Post says the buns ordered by Mr Xi soon sold out after hundreds of diners descended on the fast food eatery on Sunday to order the same dish.
However, some internet users suspect that the surprise lunch was staged as a public relations show, says Hong Kong's South China Morning Post.
Elsewhere, there has been a media outcry after officials in Jing county, Anhui province, forcibly dug up the "illegally buried" coffin of a recently deceased elderly villager and cremated it with diesel oil on 19 December.
Anhui TV showed photos of the coffin in flames on Friday.
Legal Daily commentator Li Kejie condemns the enforced cremation as "unacceptable brutal barbaric behaviour" and accuses local officials of trying to "deceive the public" by citing law enforcement.
And finally, film director Zhang Yimou may have to pay a record high fine of 7m yuan (£698,000; $1.15m) for violating the country's one-child policy by fathering three children, Xinhua reported on Sunday.
The director, who gained international acclaim with his films as well as the opening ceremony of the Beijing Olympic Games in 2008, apologised to the public for his "mistakes" in an interview with Xinhua on Sunday.
BBC Monitoring reports and analyses news from TV, radio, web and print media around the world. For more reports from BBC Monitoring, click here. You can follow BBC Monitoring on Twitter and Facebook.