China official Yang Gang investigated for corruption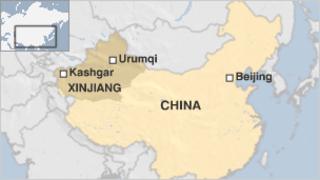 China is investigating a top political adviser and former deputy Communist Party chief in Xinjiang for corruption, the party's discipline watchdog says.
Yang Gang, who is currently deputy director of an official economic committee, is being probed for "serious disciplinary and legal violations".
The term is used to refer to corruption by Communist Party members. Mr Yang has not commented publicly on the claims.
President Xi Jinping has vowed to eradicate corruption in China.
Mr Yang is believed to be the 17th senior official to be investigated since China's once-in-a-decade leadership handover in November 2012, which saw Xi Jinping confirmed as China's leader.
Mr Xi has warned that corruption could topple the Communist Party, and launched an anti-corruption campaign he said would target both "tigers and flies" - high and low ranking officials in the government.
There have also been bans on new government buildings and lavish banquets amongst officials.
Internet users are also increasingly pursuing those perceived as having done wrong through online exposes and campaigns.
But there have been signs that this has worried the authorities, with a number of journalists arrested for "rumour-mongering" and a high-profile blogger arrested.