China media: Abe's Yasukuni shrine visit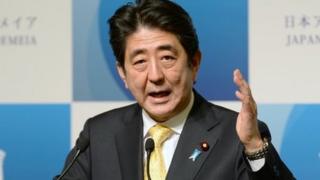 State media accuse Japanese Prime Minister Shinzo Abe of insulting China with his visit to a controversial shrine that honours war dead including convicted war criminals.
Chinese official media accuse Mr Abe of deliberately stoking tensions after he paid a visit to Yasukuni, a shrine that honours Japan's 2.5 million war dead, including convicted war criminals.
The visit took place on the first anniversary of Abe's taking office as prime minister. It was also the first visit by a serving Japanese prime minister since 2006.
The visit angered China and South Korea and also prompted the US to voice concerns about rising tensions in East Asia.
"Choosing a sensitive time to visit a highly controversial and notorious place, Abe knows perfectly what he is doing and the consequences. Instead of a pledge against war, as Abe has claimed, the visit is a calculated provocation to stoke further tension," commented the official Xinhua news agency on Thursday.
The Liberation Army Daily and China Central Television both condemned the shrine visit as "ghost worship".
"Abe knew it would be an insult. But he does not care... His tribute to Yasukuni has slammed the door to dialogue shut," says the China Daily.
However, the nationalist Global Times goes further and calls for Abe and other senior Japanese officials who have offended China to be blacklisted from travelling to China for five years.
"If China just protests, or its counter-actions are not strong enough, this will become a basis for the outside world to judge China as a 'paper tiger'," it says.
Mao's legacy
Meanwhile, debates over the controversial and divisive legacy of Mao Zedong continue to be played out in China's traditional and social media following his 120th birth anniversary on Thursday.
Hong Kong's South China Morning Post believes that President Xi Jinping's speech at a symposium on the 120th birth anniversary of Mao Zedong struck a "delicate balancing act" by praising Mao Zedong's achievements while also stressing that he was "not a god".
Mr Xi acknowledged that Mao had made "serious mistakes" in his later years, especially when he launched the Cultural Revolution (1966-1976), which led to the persecution, imprisonment and deaths of millions of people.
He said that individuals could not be blamed for historical failures nor solely credited with an era's success.
"The remarks [by Xi about Mao] are a response to the recent ideology debates of the left and the right... Xi is sending a message that he won't follow the old path of Maoism nor go astray towards Western democracy," Pu Xingzu, a political scientist at Shanghai's Fudan University, tells the South China Morning Post.
Compared with similar commemorations of Mao in the past two decades, the Global Times notes that this year's event was "relatively scaled back" and "toned down".
Wang Zhanyang, director of the Political Science Department at the Central Institute of Socialism, told the Global Times that the lower-key commemoration was aimed at addressing the concerns of both conservative and liberal camps, especially "extreme conservative-leaning" pro-Mao factions.
However, Hong Kong's Apple Daily says Xi ended up disappointing liberals and leftists.
"Xi did not avoid talking about Mao's mistakes and he did not shout long live Mao Zedong Thought, which disappointed the Mao fans; while Xi used independence as ground for refusing to take the road of Western democracy, which disappointed liberals," it comments.
On Tuesday and Thursday, the Global Times published commentaries defending Mao's divisive legacy against attacks both at home and abroad.
The newspaper accuses liberals of using the achievements of late Republic of China leader Chiang Kai-shek to "slander" Mao. Chiang's government and army was forced to flee mainland China following defeat by the Communists in 1949.
"Mao's talent and his leadership qualities cannot be knocked down... People have often used praise for Chiang Kai-shek to denigrate Mao in recent years, which is as ridiculous as using fables and fairy tales to hoodwink a group of adults," it says.
The newspaper also carries a warning to Mao's detractors not to go too far.
"Mao Zedong's name is written into China's constitution, and Chinese society will not allow the slander of Mao Zedong and Mao Zedong Thought to go too far. When some radical words and deeds repeatedly challenge the bottom line, a certain form of backlash is likely to occur," it says.
BBC Monitoring reports and analyses news from TV, radio, web and print media around the world. For more reports from BBC Monitoring, click here. You can follow BBC Monitoring on Twitter and Facebook.